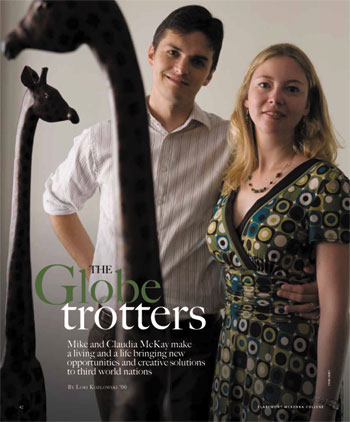 From the Ath to Africa: Two CMCers Share Their Decade of Experiences Abroad
CLAUDIA VON DER OHE MCKAY '99
MIKE MCKAY '99
THURSDAY, SEPTEMBER 23, 2010
Microfinance and electronic medical records have been buzzwords for the past few years, but CMC alumni Claudia (class of '99) and Mike (class of '00) McKay have been using these approaches to improve quality of life in Malawi.

Claudia McKay is a branchless banking and microfinance specialist at CGAP, a policy and research center at the World Bank dedicated to advancing financial access for low income people worldwide. Before that she worked for Opportunity International, including four years as the head of microfinance at their bank in Malawi.

Mike McKay, too, relies on novel technologies to help Malawians without access to one of that country's 260 doctors to receive HIV/AIDS treatment. He coordinated efforts by a team of Malawian software developers to digitize medical treatment information so that any literate individual could give basic treatment to sufferers of HIV/AIDS.

Many of the technologies that the McKays use are not even in use here in the United States. They expect these technologies to "leapfrog," being first implemented in third-world countries to solve crises there, and only then be adopted in the developed world. From their disparate experiences overseas, in finance and in medical software development, come interdisciplinary lessons about third-world development and about effecting change to improve lives around the world.