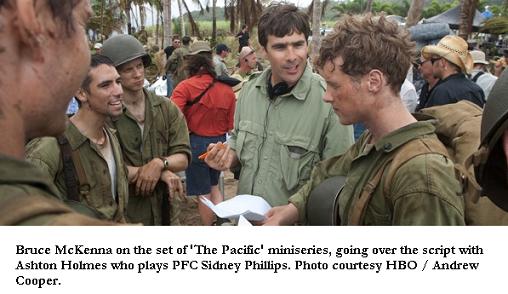 Writing History onto Screen
BRUCE MCKENNA
TUESDAY, OCTOBER 12, 2010
Bruce McKenna is the screenwriter and producer of HBO's hit series Band of Brothers (2001) and The Pacific (2010). In his talk tonight, "Writing History onto Screen," he will provide insight into the intensive process it takes to produce such vivid portrayals of the Second World War.
In order to create entertainment which is both interesting and historically accurate, McKenna conducts extensive research. In preparation for writing The Pacific, he told an interviewer, he read thirty books in one month. His efforts, and those of the people he worked with, including Tom Hanks and Steven Spielberg, paid off. The Pacific was nominated for twenty four Emmy Awards in 2010, ultimately winning eight, including "Outstanding Miniseries" as well as McKenna's nomination for "Outstanding Writing for a Miniseries, Movie, or Dramatic Special." In addition, McKenna's episode, "Bastogne," from the Band of Brothers series was awarded a Writers Guild Award in 2003.

McKenna graduated Phi Beta Kappa from Wesleyan University in 1984. He received his bachelor's degree in European history and received the Dutcher History Prize, which is awarded to the graduating senior with the best record within the history major. He went on to spend a year at Stanford in their Ph.D. program in Russian and Soviet history, focusing on early 20th century Russian fascism.

McKenna's visit to the Athenaeum is sponsored by the Gould Center for Humanistic Studies, where he is a member of the Advisory Board. Bruce McKenna's visit to campus also coincides with the commemoration of the 103rd birthday of his grandfather, Donald McKenna, founding trustee of Claremont McKenna College.