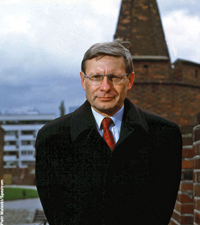 How to Avoid Another Financial Crisis
LESZEK BALCEROWICZ
THURSDAY, OCTOBER 14, 2010
In September 1989, Leszek Balcerowitz became Deputy Prime Minister and Minister of Finance in the first non-communist government in Poland. He served in this capacity until 1991, and again from 1997 to 2000. From April 1995 to December 2000, Balcerowicz was the president of the Polish political party, Freedom Union (UW). From 2001 to 2007, he served as President of the National Bank of Poland.
Dr. Balcerowicz's academic background is equally as prolific. He graduated with distinction from the Foreign Trade Faculty at the Central School of Planning and Statistics in Warsaw in 1970. He went on to earn his MBA from St. John's University in New York in 1974 followed by a doctorate in Economics from the Warsaw School of Economics in 1975. He has served as a professor there since 1992 and as Chair of International Comparative Studies since 1993.

Balcerowicz has received numerous honorary degrees from American and European universities. He received the annual Emerging Markets Award for the best president of a central bank in Central and Eastern Europe in 2004. Furthermore, in 2005, the President of Poland awarded Balcerowicz with the country's highest honor, the Order of the White Eagle, for his unparalleled contributions to Poland's economic transformation. In his various political and economic roles over the years, Leszek Balcerowicz coordinated the stabilization of Polish currency, and was instrumental in introducing the first stage of marketization in Poland.
Dr. Balcerowicz's evening lecture at the Athenaeum is sponsored by the Gould Center for Humanistic Studies at CMC, in collaboration with the European Union Center at Scripps College.