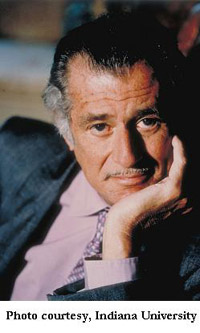 An Evening with Frank Deford
FRANK DEFORD
WEDNESDAY, OCTOBER 27, 2010
Frank Deford has been called "the world's greatest sportswriter." He writes in Sports Illustrated, and regularly reports on sports for National Public Radio's Morning Edition. He is also the author of 16 books, including novels, history, a memoir, and mystery. His most recent books are two novels, Bliss, Remembered (2010), a memoir-style tale of an elderly woman recounting young love, and The Entitled: The Tale of Modern Baseball (2007), about a baseball manager faced with a choice between conscience and career.

Deford has been elected to the Hall of Fame of the National Association of Sportscasters and Sportswriters and has been voted U.S. Sportswriter of The Year six times. GQ has called him "the world's greatest sportswriter" – The American Journalism Review has called him the "finest."

For his work at NBC, Deford won an Emmy; he won a George Foster Peabody Award for his 1999 HBO documentary "Dare to Compete." But Deford has not simply written for the screen; ESPN presented a television biography of Deford's life and work, "You Write Better than You Play" (2005).

Deford is also an activist for cystic fibrosis education and awareness. He served as chairman of the Cystic Fibrosis Foundation for 17 years, after his daughter was diagnosed with, and died of, cystic fibrosis. One of his books, Alex: The Life of a Child (1997), recounts her life.

Frank Deford's visit to CMC is jointly sponsored by the Gould Center for Humanistic Studies and the Marian Miner Cook Athenaeum.