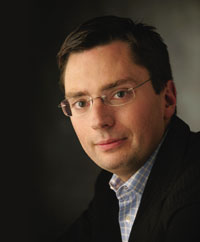 Nature, Nurture, and Financial Decision-Making
HENRIK CRONQVIST
TUESDAY, NOVEMBER 9, 2010
Dr. Henrik Cronqvist is the McMahon Family Chair in Corporate Finance, George R. Roberts Fellow, and Associate Professor of Financial Economics at the Robert Day School of Economics and Finance.
Cronqvist earned his Master's degree in Economics and Business and an Ekonomie Licentiat degree from the Stockholm School of Economics in 1997 and 1999, respectively. He went on to earn his Ph.D. in Finance from the Graduate School of Business at the University of Chicago in 2005. Before coming to CMC, he taught in the Finance Department of the Fisher College of Business at Ohio State University from 2004-2008.

Henrik Cronqvist is a member of the American Finance Association and the American Economic Association. He has also been a research affiliate with the Swedish Institute for Financial Research (SIFR) since 2005. His research has been published in prestigious financial and economic journals, including the American Economic Review, Journal of Finance, Review of Financial Studies, and Journal of Financial Economics. Furthermore, during his time at Ohio State, he received the Pace Setters Outstanding Research Award, Fisher's highest award for research contributions, in 1997. Cronqvist's research and teaching focuses on empirical corporate finance, behavioral finance, and individual investor behavior. He (along with two others) published "Nature or Nurture: What Determines Investor Behavior?" this year, and it has already received the Best Paper Award at three international conferences.