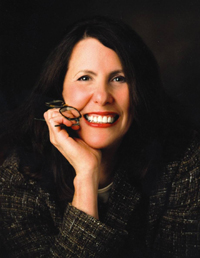 The Future of American Education
MADELINE LEVINE
WEDNESDAY, JANUARY 26, 2011
Madeline Levine is a psychologist with over twenty-five years of experience as a clinician, consultant, and educator. Her current book, The Price of Privilege: How Parental Pressure and Material Advantage are Creating a Generation of Discontented and Unhappy Kids (2006), explores the reasons why teenagers from affluent families are experiencing epidemic rates of emotional problems. Backed by cutting edge research, Levine proposes solutions that are both practical and credible.

Nationally known for her expertise on the subject of media violence and its effects on children and adolescents, she is the author of the critically acclaimed Viewing Violence (1996) and See No Evil: A Guide to Protecting Our Children from Media Violence (1998). In her work Levine proves what researchers and media executives have known for years, that heavy viewing of media violence makes children more aggressive, more assertive, more pessimistic, less empathic, less creative and more stereotypical in their thinking.

Levine received both a B.A. in English and a Masters degree in Education from New York University, Buffalo, beginning her career as an elementary and junior high school teacher in the South Bronx of New York before moving to California. She earned her M.A. and Ph.D. degrees in psychology from the California School of Professional Psychology.

Dr. Levine has a large clinical practice with an emphasis on child and adolescent problems and parenting issues and has taught Child Development classes to graduate students at the University of California Medical Center in San Francisco. For many years, Levine has been a consultant to various Bay Area schools, as well as to schools, both public and private, throughout the country. Levine has also appeared on many television and radio programs, including CBS Evening News, The NewsHour with Jim Lehrer, the BBC, and NPR.
Madeline Levine's Athenaeum lecture is part of an ongoing series that will explore some major issues confronting educators in America.