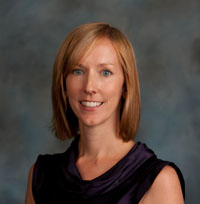 The Role of Economics in Managing Environmental Health Risks
MARY EVANS
TUESDAY, APRIL 5, 2011
Dr. Mary F. Evans is the Jerrine and Thomas Mitchell '66 Associate Professor of Environmental Economics and George R. Roberts Fellow in the Robert Day School of Economics and Finance.

Evans earned her Master's and Ph.D. degrees in Economics from the University of Colorado, Boulder, in 1999 and 2001, respectively. She went on to complete a two-year post-doctoral research fellowship at North Carolina State University. Before coming to CMC, she taught in the Department of Economics in the College of Business Administration at the University of Tennessee from 2003-2009.

Professor Evans is a member of the American Economic Association and the Association of Environmental and Resource Economists. She is a member of the editorial council for the Journal of Environmental Economics and Management and an associate editor for the Journal of Economic Behavior and Organization. Her research has been published in prestigious economics journals including the Review of Economics and Statistics, the Journal of Public Economics, and the Journal of Environmental Economics and Management. She is the recipient of two Science to Achieve Results Grant from the U.S. Environmental Protection Agency for her work on firm compliance with environmental information disclosure programs and the economic dimensions of environmental vulnerability, respectively.

Evans' talk will focus on the contributions of economics research, including her own, to the estimation of benefits associated with policies that improve health. She will focus in particular on environmental policies, especially those related to air quality. She will discuss current policy practices and their basis in economics by exploring the economic models that examine how individuals value small changes in mortality/morbidity risks. An understanding of preferences for risk reductions is of particular importance for policies that improve environmental quality as the lion's share of the associated benefits are due to health risk reductions.

Tonight marks Professor Evans' official installation to her chaired professorship.