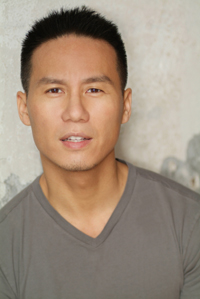 All the World's a Stage: From Exclusion to Inclusion
BD WONG
THURSDAY, SEPTEMBER 15, 2011
Tony Award-winning actor BD Wong is one of America's most versatile performers. He plays forensic psychiatrist, Dr. George Huang, on NBC's Law and Order: SVU. His character, Father Ray Mukada, on the HBO series, Oz, made him a cult favorite.

Wong's film credits include Father of the Bride (1991), The Freshman (1990), Seven Years in Tibet (1997) and Disney's Mulan (1998), but it is in the theater that Wong first gained national attention. His Broadway debut in M. Butterfly (1988) earned him the Tony Award, Outer Critic's Circle Award, Theatre World Award, Clarence Derwent Award and Drama Desk Award. He is the only actor to have won all five awards for a single role.

In his memoir, Following Foo: The Electronic Adventures of the Chestnut Man (2003), Wong recounts the remarkable highs and lows that he and his partner endured on the road to parenthood, and the difficult days following the premature birth of his twin boys via surrogate mother. He was recently invited to participate in a conversation on fatherhood and male mentorship at The White House.

The lessons Wong has learned in order to survive and excel in a vocation fraught with rejection and racism have given him a keen perspective on diversity. Lauded for their resonant and inspirational messages, his presentations address many issues including racial self-image, Asian-American parental pressure and the "model-minority myth." In early 2012, he will star in NBC's new drama series, Awake.

BD Wong spoke at the Athenaeum in March, 1994, as part of the series "Transcending Prejudice: A Vision for the Future". He returns to CMC as a participant in the ongoing series "Shifting Perceptions: Celebrating the Spectrum of Leadership".