Athenaeum Location
Print Newsletter
October 24, 2011
Vol. 27, No. 04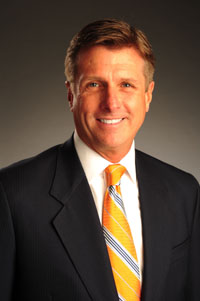 A Gay Man's Journey Through Men's Major League Sports
RICK WELTS, JR.
MONDAY, OCTOBER 24, 2011
Five months ago, a private conversation between Rick Welts and his former boss made the front page of The New York Times. Then the President and Chief Executive Officer of the NBA's Phoenix Suns, Welts became the highest-ranking executive in men's sports – and perhaps professional sports' highest-profile figure – to come out as gay. Now the President and Chief Operating Officer of the Golden State Warriors, he is one of the most respected business executives in the NBA.

Welts began his NBA career as a ball boy for his hometown Seattle SuperSonics in 1969. He soon became an assistant trainer for the team and after college became the assistant director of public relations. He headed Seattle's public relations during back-to-back appearances in the NBA Finals in 1978 and 1979, the latter becoming Seattle's only NBA championship.

In 1982 Welts joined the National Basketball Association's league offices as Director of National Promotions. He later became Vice President for Communications and eventually the league's third-in-command as Executive Vice President, Chief Marketing Officer, and President of NBA Properties. During his time with the NBA, Welts was a key part of the league's revitalization and resurgence. In 1984, Welts created the NBA All-Star Weekend, which was quickly replicated across professional sports. In 1992, he ran the marketing for USA Basketball's Olympic Dream Team; in 1996 he helped launch the WNBA.

Welts's talk is a part of the Athenaeum's ongoing series "Shifting Perceptions: Celebrating the Spectrum of Leadership," which aims to foster a greater sense of inclusivity and community at CMC by celebrating the bold leadership of women, gay men, and lesbians. The series is sponsored by nine different offices and organizations on campus, including the Athenaeum, the President's Office, Dean of Students, and the Dean of the Faculty.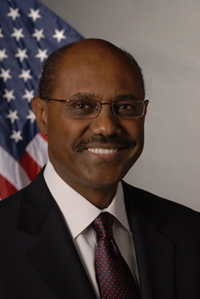 CMC: Opening Doors to Opportunity
DANIEL YOHANNES '76
TUESDAY, OCTOBER 25, 2011
LUNCHEON 12:00 p.m.; LECTURE 12:15 p.m.
Daniel W. Yohannes is the Chief Executive Officer of the Millennium Challenge Corporation (MCC). A philanthropist from Englewood, Colorado, Mr. Yohannes has more than 30 years experience in banking and economic development. He was nominated as Chief Executive Officer of MCC by President Barack Obama on September 18, 2009, and confirmed by the U.S. Senate on November 20, 2009.

Prior to his confirmation, Mr. Yohannes was the President of M&R Investments, a firm specializing in financial services and the renewable energy sector. Before launching M&R Investments, Mr. Yohannes was a leader in the financial services industry, working in various roles throughout his career including as Vice Chairman and member of the Management Committee of U.S. Bank, President and CEO of Colorado National Bank, and as the Executive Vice President of Security Pacific Bank (now Bank of America).

Passionate about protecting the environment and creating practical methods for implementation, in 2006, Mr. Yohannes co-founded the New Resource Bank in San Francisco, California to invest in green projects and environmentally sustainable businesses in the community. He also served as chairman of the Greenprint Council, a leadership group established by the Mayor of Denver focused on improving the environment of cities and reducing greenhouse gas emissions.

Yohannes is active in his community and has served on various boards and civil organizations, including the Board Project C.U.R.E (Commission on Urgent Relief & Equipment), the National Jewish Hospital, the Denver Art Museum's Board of Trustees, the Smithsonian National Board, the Board of Directors of Media One (now Comcast), University of Washington Michael G. Foster School of Business, Pacific Coast Banking School, Boy Scouts of America, First Western Trust Bank, New Resource Bank, and the Board of Advisors for the University of Colorado Medical School.

Mr. Yohannes graduated from Claremont McKenna College with a B.A. in Economics and earned an M.B.A. from Pepperdine University. Born in Addis Ababa, Ethiopia, he is fluent in Amharic.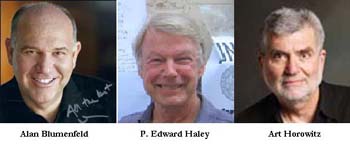 Moshe: Prince of Israel
P. EDWARD HALEY, author
ALAN BLUMENFELD
ART HOROWITZ
TUESDAY, OCTOBER 25, 2011
Moshe: Prince of Israel (2010) by Ed Haley is a historical tragedy about the personal and political conflict between two of Israel's founders, Moshe Sharett and David Ben Gurion. The play takes place from 1953-1956, a time when Ben Gurion's personal and political triumph over Sharett set Israel's relations with the Arabs and the rest of the world into a pattern that continues to this day.

Ben Gurion's destruction of Sharett reflects not just their conflicting ambitions and dreams for Israel but also the enduring split in Israel and among people everywhere over how Israel should respond to Arab hostility. The issues these two men embody and struggle for so combatively with one another reappear constantly today – in Israel and in headlines around the world. Many of the words spoken by the two characters in the play are taken verbatim from published excerpts from their diaries or from quotations in biographies.

P. Edward Haley holds the W.M. Keck Foundation Chair in International Strategic Studies at Claremont McKenna College, where he directs The Center for Human Rights Leadership. He has served members of both houses of the U.S. Congress and as Fulbright Senior Specialist at the Romanian Foreign Ministry. Haley is the author of ten books and dozens of articles and is a leading scholar of and commentator on the Middle East. Moshe: Prince of Israel is his first play.

Art Horowitz is the chair of the Pomona College Department of Theatre and Dance. Horowitz joined the Pomona faculty in 2004, where his research covers the medieval Dance of Death and Shakespeare in performance – with particular emphasis on international, non-English language productions and adaptations – among other areas.

Alan Blumenfeld is currently a Lecturer in Theatre at Pomona College. A veteran American character actor, he is best known for his role in NBC's TV series Heroes as Maury Parkman, the telepath father of Matt Parkman. Blumenfeld began acting as a seven-year-old first grader, and has appeared in prime time television shows such as Grey's Anatomy, JAG, Gilmore Girls, CSI: Crime Scene Investigation, Without a Trace, and Judging Amy. His movie credits include The Ring, In Her Shoes, and Friday the 13th Part VI: Jason Lives.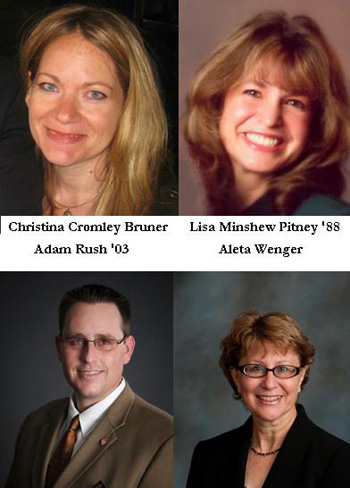 A Career in Government: Can You Achieve Work/Life Satisfaction?
LISA MINSHEW PITNEY '88
ADAM RUSH '03
CHRISTINA CROMLEY BRUNER
ALETA WENGER
WEDNESDAY, OCTOBER 26, 2011
LUNCHEON 11:30 a.m.; LECTURE 12:00 p.m.
Christina Cromley Bruner: As the Director for Strategy Management at the Department of the Interior's Office of Inspector General (OIG), Dr. Bruner works with OIG's senior leadership and staff to implement the OIG's strategy and monitor its effectiveness. Part of the strategy involves helping to create programs that encourage work-life balance. Dr. Bruner's background in policy analysis, experience in several offices in the OIG and at the U.S. Government Accountability Office prepared her to assume this role. (But nothing prepared her for taking on this new role after returning from six months of maternity leave as a new mother!)

Her tenure in the government is founded on extensive field experience, which has taken her to urban and rural communities throughout the United States. She served as Director of Policy at American Forests. She is also a Research Associate for the Northern Rockies Conservation Cooperative and serves on the editorial board of the Policy Sciences journal. She co-edited Foundations of Natural Resource Policy and Management and co-authored Finding Common Ground: Governance and Natural Resources in the American West and Adaptive Governance: Integrating Science, Policy, and Decision Making. She completed her doctorate at Yale University in 2001. She holds a certification in the Kaplan-Norton model of strategy management. She also serves on the Board of Directors of the Federal Children's Center, where her 18-month old son attends daycare.

Lisa Minshew Pitney '88: Lisa was born in Los Angeles and raised in Northern California. Lisa currently resides in La Crescenta with her husband, Jack Pitney, and their two children.

Lisa graduated Phi Beta Kappa from Claremont McKenna College with a bachelor's degree in Political Science. After completing her undergraduate work, Lisa earned a Master of Public Policy degree from the John F. Kennedy School of Government at Harvard University.

Lisa joined The Walt Disney Company in 1996 as the Manager of Government Relations for the Disneyland Resort. Lisa now serves as the Vice President of Government Relations for The Walt Disney Company.

In this role, Lisa represents The Walt Disney Company to city, county and state government, and serves on the boards of the Valley Industry and Commerce Association, the Central City Association of Los Angeles, the Motion Picture Association of America – California Group, the Valley Economic Alliance, the Los Angeles Area Chamber of Commerce, and the Public Affairs Council of the California Chamber of Commerce.

Adam Rush '03: Adam was born and raised in Corona, CA. Prior to CMC, Adam attended Santiago High School where he as a football standout. Adam graduated from CMC in 2003 with a dual degree in Government and Philosophy.

Following his graduation from CMC, Adam pursued graduate coursework in public policy and politics at Claremont Graduate University while also searching for employment. Adam landed a position as an urban planner with the County of Riverside Planning Office which helped him hone his interest in pursuing local politics as a profession. Adam was a key designer in many of the major projects associated with growing the small town of Eastvale which ultimately led to its incorporation in 2010. Adam was sworn in as the first Mayor of Eastvale on October 1, 2010. He currently resides in Eastvale with his wife, Kristin, and two daughters, Jordyn and Avery.

Aleta Wenger: Prior to joining CMC in 2008, Aleta was an Assistant Secretary of the University at Yale University with responsibility for strategic planning and outreach in the Middle East and Africa.

Before her recent positions in higher education, Ms. Wenger was a Foreign Service Officer with the U.S. Department of State, retiring at the end of 2005 with 25 years of U.S. government experience. Her government career includes diplomatic assignments in U.S. Embassies in Jordan, Egypt, Tunisia, Algeria, Qatar, and Bahrain, and in Washington, D.C. She was the Chief of the Public Diplomacy Sections and the U.S. Embassy's spokesperson in Qatar and Bahrain from 1999-2005. She supervised multinational staffs and managed budgets in support of U.S. foreign policy goals, including large-scale cultural diplomacy programs.

Ms. Wenger was a Branch Chief in the Bureau of Education and Cultural Affairs of the United States Information Agency, where she directed the Hubert H. Humphrey Fellowship Program and the University Affiliations Program. She has managed U.S. government-funded academic and cultural exchange programs totaling more than $20 million per year.

Wenger began her career with the Federal Government as a Presidential Management Intern in 1985. Earlier, she was a Congressional Intern in the office of U.S. Congressman Norman D. Dicks, and a Peace Corps Volunteer in Morocco. During graduate school, she was a State Department intern in Burkina Faso in 1984.

Ms. Wenger is a recipient of the U.S. Department of State Superior Honor Award and several Meritorious Honor Awards. She has a Master of Public Administration from the University of Washington and a B.A. in History and Anthropology from Pacific Lutheran University. She is married with three children who accompanied her on her overseas and domestic assignments.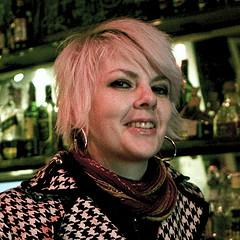 Share This! How You will Change the World with Social Networking
DEANNA ZANDT
WEDNESDAY, OCTOBER 26, 2011
Twitter. Facebook. LinkedIn. Flickr. Chances are, you recognize all of those websites. As social networking becomes one of the most prominent aspects of technological life today, it also becomes one of the most influential. In her Athenaeum talk, media technologist and author Deanna Zandt will discuss how you can make the most of new technology to garner support for your causes.

Deanna Zandt is a consultant for multiple progressive media organizations, for which she creates and implements effective web strategies toward organizational goals of civic engagement and empowerment. She specializes in social media, and is also a fellow for the Progressive Women's Voices program at the Women's Media Center. Her background in linguistics, advertising, telecommunications and finances contributes to her extremely successful work.

In addition to her degree in linguistics from the University at Albany, SUNY, Ms. Zandt has studied in Germany. Her Athenaeum talk is based on her book, Share This! How You Will Change the World with Social Networking. This talk is part of the series on public discourse, sponsored by the Center for Writing and Public Discourse. Prior to her evening presentation Ms. Zandt will also be facilitating a workshop on Wikipedia editing from 4:00 pm—5:00 pm in Roberts North 12.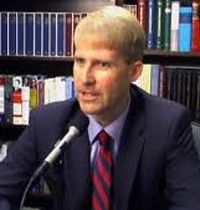 Standing Up to Washington: State Resistance to Federal Policy, Past and Present
JOHN DINAN
THURSDAY, OCTOBER 27, 2011
LUNCHEON 11:30 a.m.; LECTURE 12:00 p.m.
John Dinan is a professor of political science at Wake Forest University. His research focuses on state constitutionalism, federalism, and American political development and he is the author of Keeping the People's Liberties: Legislators, Citizens, and Judges as Guardians of Rights (1998) and The American State Constitutional Tradition (2006). He is the current chair of the Federalism and Intergovernmental Relations section of the American Political Science Association. His talk will be on state resistance to federal policy through history up to and including Obamacare. Professor Dinan received his Ph.D. from the University of Virginia.

John Dinan's Athenaeum address and visit to campus is sponsored by the Rose Institute for State and Local Government at Claremont McKenna College.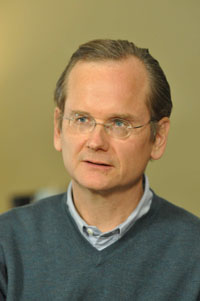 Republic, Lost: How Money Corrupts Congress—and a Plan to Stop It
LAWRENCE LESSIG
THURSDAY, OCTOBER 27, 2011
During his visit to the Athenaeum, Harvard Law School professor Lawrence Lessig will explore one of the most vexing problems in American democracy: how money corrupts our nation's politics, and the critical campaign to stop it. His talk is based on his most recent book, Republic Lost: How Money Corrupts Congress—and a Plan to Stop It.

In an era of ballooning corporate campaign expenditures, unleashed by the Supreme Court in Citizens United, trust in our government is at an all time low. More than ever before, Americans believe that money buys results in Congress and that our Republic has been lost. Republic, Lost not only makes clear how the economy of influence defeats the will of the people, but offers cogent strategies to correct our course – from a constitutional convention to a Regent Presidency.

Lessig is one of America's foremost intellectuals, and an expert on ethics. He is the author of six books on the law and technology. He is also the Director of the Edmond J. Safra Center for Ethics at Harvard University, and a Professor at Harvard Law School. Prior to returning to Harvard, Lessig was a Professor of Law at Stanford Law School and the University of Chicago Law School. Lessig has clerked for Justice Antonin Scalia on the United States Supreme Court.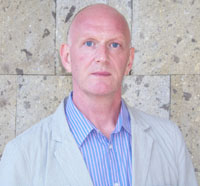 Debunking Five Myths About the Arab Spring
JOHN R. BRADLEY
MONDAY, OCTOBER 31, 2011
When the Jasmine Revolution erupted in Tunisia in December 2010, followed a month later by the Egyptian revolution, Middle East observers were quick to hail the birth of an Arab Spring. But were they premature to do so? Author John Bradley explores the obstacles to establishing Western-style democracy in these two countries and the wider region, and in particular in the form of radical Islam, sectarianism, and tribalism. He will argue that the Tunisian and Egyptian revolutions were not in fact motivated primarily by a thirst for freedom of expression, but rather out of economic desperation; and that because they were leaderless and without a political agenda they failed to overthrow the existing order. Elsewhere in the region, the situation is even more dire, with Saudi Arabia and Washington successfully launching a counter-revolution.

Middle East correspondent John R. Bradley was born in England in 1970. He was educated at University College London, Dartmouth College, and Exter College, Oxford. Fluent in Egyptian Arabic and widely published in the United States and Britain, he is best known for his book Inside Egypt: The Land of the Pharaohs on the Brink of a Revolution (Palgrave Macmillan, 2008) that accurately predicted the Jan. 25 uprising. He is also the author of Saudi Arabia Exposed: Inside a Kingdom in Crisis (Palgrave Macmillan, 2005), Behind the Veil of Vice: The Business and Culture of Sex in the Middle East (Palgrave Macmillan, 2010), and The Mythical Arab Spring (Palgrave Macmillan, forthcoming, 2012).

John Bradley's visit to CMC is sponsored the Center for Human Rights Leadership.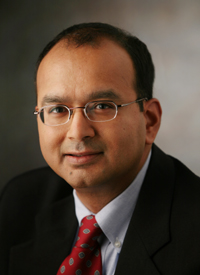 How an Accountant, Or Even You, Might Make Business Decisions: Some Evidence from the Laboratory
ANANDA GANGULY
TUESDAY, NOVEMBER 1, 2011
Dr. Ananda R. Ganguly is the Morcos Massoud Associate Professor of Accounting and George R. Roberts Fellow in the Robert Day School of Economics and Finance. This evening's lecture marks Professor Ganguly's ceremonial installation as the inaugural holder of the chaired professorship instituted in honor of Professor Marc Massoud.
Professor Ganguly's talk will focus on some laboratory experimental research, including his own, on how economic decision makers – including investors, auditors and managers – might use information while making judgments and reaching decisions. He will focus particularly on discoveries of some very predictable patterns of human cognition that may lead to business judgments and decisions contrary to predictions of standard economic models. He will also relate these aberrations to a variety of other social contexts.

Ganguly earned his Ph.D. in Business Administration from the University of Pittsburgh in 1996. Prior to joining the faculty at Claremont McKenna, he served on the faculty at the University of Illinois at Urbana-Champaign and at Purdue University. He has won numerous awards and recognition for outstanding teaching, and currently teaches Financial Accounting and Strategic Cost Management.

In the year 1999-2000, he took a leave of absence from academia to serve as a Director and Academic Research Fellow at KPMG LLP at their international Assurance and Advisory Services Center (AASC) in Montvale, New Jersey. The task force to which he was assigned was charged with re-inventing KPMG's business model for assurance services in the 21st century.
Back in academia, his primary research interest lies in examining decision making in economic and accounting settings. His Ph.D. dissertation at the University of Pittsburgh won the prestigious Arthur Andersen Foundation fellowship, and he has since published in highly-ranked academic journals such as Accounting, Organizations and Society; Auditing: A Journal of Practice and Theory; Contemporary Accounting Research and the Journal of Risk and Uncertainty. He is a referee for a number of prestigious journals including some of the above, as well as The Accounting Review, Journal of Experimental Economics, Management Science, Journal of Accounting, Auditing and Finance, etc. In addition, he has presented papers and served as a discussant or moderator at numerous conferences and universities, and given talks to industry bodies on managerial and investor judgment and decision making.

Ananda Ganguly is a member of the American Accounting Association, and the Society for Judgment and Deicison Making. He is an avid photographer and hiker, a member of Mensa, and listed in Who's Who in America and in Who's Who Among America's Teachers.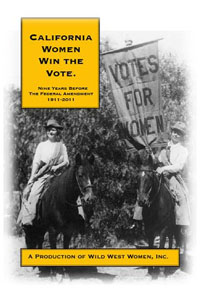 California Women Win the Vote: Screening and Panel Discussion
MARTHA WHEELOCK
DIANA SELIG
LILY GEISMER
WEDNESDAY, NOVEMBER 2, 2011
Nine years before the Tennessee state legislature ratified the Nineteenth Amendment, enfranchising women across the U.S., Proposition 4 gave California's women the vote in a special election on October 10, 1911. California Women Win the Vote tells the story of that effort.

The story of the California Suffrage Campaign shows how the fight for the vote was waged in a uniquely Californian way: suffrage workers took to the streets and street cars of the big cities, as well as small towns, mines, factories, and farms all over California. In this battle for enfranchisement, the weapons were handbills and billboards, soapbox speakers, press releases, door to door canvassing, drama and music, innovative marketing items, clubs and classrooms, all buoyed up by individuals' ardent commitments. This was no heavily financed campaign; it relied only on funds from bake sales and personal donations in dimes and dollars. But California's frontier tenacity and resourcefulness prevailed.

Martha Wheelock directed, researched, co-produced, and co-wrote California Women Win the Vote. This is her eleventh film since founding Ishtar Films in 1978. She is also the president of Wild West Women, whose mission is to produce educational materials about women, and a teacher of American literature, ethics, and women's studies at Harvard Westlake School in Los Angeles.

Diana Selig is an associate professor of history at Claremont McKenna College. Her scholarship and teaching focus on U.S. political history – particularly ethnicity, race, and gender. She earned her Ph.D. in history from the University of California at Berkeley and her B.A. from Yale University.

Lily Geismer is an assistant professor of United States history at Claremont McKenna College. A scholar of modern American political history, she focuses on gender and sexuality, liberalism, and national political realignment. She earned her Ph.D. in history from the University of Michigan and her B.A. from Brown University.

This presentation is sponsored by the Center for Writing and Public Discourse and the Claremont McKenna Gender Studies Program. The film will be shown at 6:30 p.m. and followed immediately by the discussion.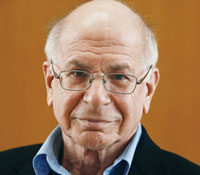 Thinking, Fast and Slow
DANIEL KAHNEMAN
THURSDAY, NOVEMBER 3, 2011
A Nobel laureate in economics (one of the only non-economists to earn this honor) and a research psychologist world-renowned for his seminal work on judgment, decision making, and happiness and well-being, Daniel Kahneman has been hugely influential on notable writers like Dan Ariely, Richard Thaler, Steven Pinker, and Daniel Gilbert. His ideas have revolutionized economics, medicine, psychology, philosophy, legal studies, and a host of other disciplines by challenging fundamental ideas about rationality in thinking and decision making. In Kahneman's view of the mind, developed through decades of path-breaking research, we are blind to our cognitive blind spots: we often don't know why we make the judgments and choices we do, we are bad at knowing what we want and what will make us happy, and the model of the world in our heads often doesn't correspond to the world as it really is. Our thinking and behavior are shaped by systematic cognitive errors — the biases of intuition that Kahneman is widely credited with first revealing.
Kahneman is an eminence grise for the Freakonomics crowd. In the mid-1970s, with his collaborator Amos Tversky, he was among the first academics to pick apart exactly why we make "wrong" decisions. In their 1979 paper on prospect theory, Kahneman and Tversky examined a simple problem of economic risk. And rather than stating the optimal, rational answer, as an economist of the time might have, they quantified how most real people, consistently, make a less-rational choice. Their work treated economics not as a perfect or self-correcting machine, but as a system prey to quirks of human perception. The field of behavioral economics was born.

Kahneman was awarded the Nobel Memorial prize in 2002 for his work with Tversky, who died before the award was bestowed. In a lovely passage in his Nobel biography, Kahneman looks back on his deep collaboration with Tversky and calls for a new form of academic cooperation, marked not by turf battles but by "adversarial collaboration," a good-faith effort by unlike minds to conduct joint research, critiquing each other in the service of an ideal of truth to which both can contribute. "Amos and I shared the wonder of together owning a goose that could lay golden eggs -- a joint mind that was better than our separate minds."

In Thinking, Fast and Slow, Kahneman illuminates what he calls the "machinery of the mind." Two systems drive the way we think and make choices: System One is fast, intuitive, and emotional: System Two is slower, more deliberative, and more logical. Examining how both systems function, Kahneman exposes both the extraordinary capabilities and also the faults and biases of fast thinking, and the pervasive influence of intuitive impressions on our thoughts and our choices.
Daniel Kahneman is the Eugene Higgins Professor of Psychology Emeritus at Princeton University and Professor of Psychology and Public Affairs Emeritus at Princeton's Woodrow Wilson School of Public and International Affairs.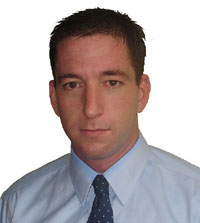 With Liberty and Justice for Some
GLENN GREENWALD
FRIDAY, NOVEMBER 4, 2011
LUNCHEON 11:30 a.m.; LECTURE 12:00 p.m.
Glenn Greenwald is a prominent blogger and political commentator at Salon and the author of With Liberty and Justice for Some. His latest book, With Liberty and Justice for Some: How the Law is Used to Destroy Equality and Protect the Powerful, details the two-tiered justice system in the United States where "political and financial elites" benefit from immunity from prosecution, "even for egregious illegality," and ordinary citizens are subject to a "merciless system of punishment and coercion." His examples of that "merciless system" include extrajudicial punishment of political activists like Jacob Appelbaum and the War on Drugs; for "elites," the Obama administration has not prosecuted or investigated Bush-era lawbreakers or leaks of classified information from high-level White House officials.

Greenwald writes prolifically at Salon, typically on topics of civil liberties, national security and media criticism. Greenwald also appears frequently on TV, web and radio news programs such as MSNBC's Morning Joe, The Young Turks, and Democracy Now!, as well as on Salon's own Salon Radio. Greenwald joined Salon in 2006 after blogging independently. Before his career as a blogger, Greenwald was a civil rights and constitutional law litigator in New York.

Glenn Greenwald has written three books, How Would a Patriot Act?: Defending American Values from a President Run Amok (2006), A Tragic Legacy: How a Good vs. Evil Mentality Destroyed the Bush Presidency (2008) and Great American Hypocrites: Toppling the Big Myths of Republican Politics (2008). He has also written a much-cited report (2009) for the Cato Institute on Portugal's successful drug decriminalization policy.
MARIAN MINER COOK ATHENAEUM
RECORDING POLICY
It is the policy of the Marian Miner Cook Athenaeum that no lecture, appearance or performance by any speaker or performer at the Athenaeum is to be videotaped, audiotaped, or otherwise recorded and/or broadcast without the prior written permission of the relevant speaker, performer, or other authorized owner of the intellectual property rights to the event.



Anyone requesting permission to record an event is required to submit an "Event Recording Request Form" to Bonnie Snortum, the Director of the Athenaeum, at least 48 hours in advance of the relevant event.



It is understood that the speaker, the performer, the Athenaeum, and any other event sponsor, as appropriate, reserve all intellectual property rights for each Athenaeum event.



If you have any questions regarding this policy, please contact Bonnie Snortum at bsnortum@cmc.edu or at (909) 607-4180.
ATHENAEUM ETIQUETTE
The Athenaeum serves as a gathering place where ideas, inquiry, and fellowship bring students, faculty, staff, other scholars, and nationally prominent speakers together.



Attendance at any event may be limited to persons associated with CMC, to the people who signed up for the dinner, or to the maximum number of people allowed by fire regulations.



On some occasions the speaker may address the group in another forum or the College may set up a video feed to handle an overflow crowd. All programs at the Athenaeum are filmed. Individuals attending should understand that their image might appear on the videotape.



House rules and common courtesy prohibit disruptive actions inside the building during an Athenaeum sponsored program.



Time allowing, there will be a period set aside for questions. Students will have priority during this portion of the program.



Guests are expected to dress appropriately in all dining rooms. Shorts, jeans, and t-shirts are not acceptable at dinner; more casual attire is acceptable for lunch and tea. No bare feet at any time.