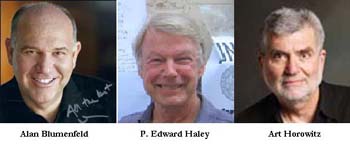 Moshe: Prince of Israel
P. EDWARD HALEY, author
ALAN BLUMENFELD
ART HOROWITZ
TUESDAY, OCTOBER 25, 2011
Moshe: Prince of Israel (2010) by Ed Haley is a historical tragedy about the personal and political conflict between two of Israel's founders, Moshe Sharett and David Ben Gurion. The play takes place from 1953-1956, a time when Ben Gurion's personal and political triumph over Sharett set Israel's relations with the Arabs and the rest of the world into a pattern that continues to this day.

Ben Gurion's destruction of Sharett reflects not just their conflicting ambitions and dreams for Israel but also the enduring split in Israel and among people everywhere over how Israel should respond to Arab hostility. The issues these two men embody and struggle for so combatively with one another reappear constantly today – in Israel and in headlines around the world. Many of the words spoken by the two characters in the play are taken verbatim from published excerpts from their diaries or from quotations in biographies.

P. Edward Haley holds the W.M. Keck Foundation Chair in International Strategic Studies at Claremont McKenna College, where he directs The Center for Human Rights Leadership. He has served members of both houses of the U.S. Congress and as Fulbright Senior Specialist at the Romanian Foreign Ministry. Haley is the author of ten books and dozens of articles and is a leading scholar of and commentator on the Middle East. Moshe: Prince of Israel is his first play.

Art Horowitz is the chair of the Pomona College Department of Theatre and Dance. Horowitz joined the Pomona faculty in 2004, where his research covers the medieval Dance of Death and Shakespeare in performance – with particular emphasis on international, non-English language productions and adaptations – among other areas.

Alan Blumenfeld is currently a Lecturer in Theatre at Pomona College. A veteran American character actor, he is best known for his role in NBC's TV series Heroes as Maury Parkman, the telepath father of Matt Parkman. Blumenfeld began acting as a seven-year-old first grader, and has appeared in prime time television shows such as Grey's Anatomy, JAG, Gilmore Girls, CSI: Crime Scene Investigation, Without a Trace, and Judging Amy. His movie credits include The Ring, In Her Shoes, and Friday the 13th Part VI: Jason Lives.