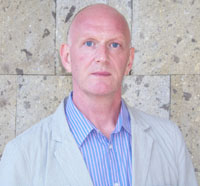 Debunking Five Myths About the Arab Spring
JOHN R. BRADLEY
MONDAY, OCTOBER 31, 2011
When the Jasmine Revolution erupted in Tunisia in December 2010, followed a month later by the Egyptian revolution, Middle East observers were quick to hail the birth of an Arab Spring. But were they premature to do so? Author John Bradley explores the obstacles to establishing Western-style democracy in these two countries and the wider region, and in particular in the form of radical Islam, sectarianism, and tribalism. He will argue that the Tunisian and Egyptian revolutions were not in fact motivated primarily by a thirst for freedom of expression, but rather out of economic desperation; and that because they were leaderless and without a political agenda they failed to overthrow the existing order. Elsewhere in the region, the situation is even more dire, with Saudi Arabia and Washington successfully launching a counter-revolution.

Middle East correspondent John R. Bradley was born in England in 1970. He was educated at University College London, Dartmouth College, and Exter College, Oxford. Fluent in Egyptian Arabic and widely published in the United States and Britain, he is best known for his book Inside Egypt: The Land of the Pharaohs on the Brink of a Revolution (Palgrave Macmillan, 2008) that accurately predicted the Jan. 25 uprising. He is also the author of Saudi Arabia Exposed: Inside a Kingdom in Crisis (Palgrave Macmillan, 2005), Behind the Veil of Vice: The Business and Culture of Sex in the Middle East (Palgrave Macmillan, 2010), and The Mythical Arab Spring (Palgrave Macmillan, forthcoming, 2012).

John Bradley's visit to CMC is sponsored the Center for Human Rights Leadership.