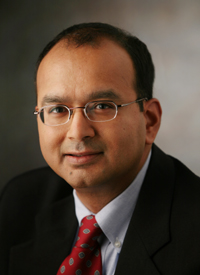 How an Accountant, Or Even You, Might Make Business Decisions: Some Evidence from the Laboratory
ANANDA GANGULY
TUESDAY, NOVEMBER 1, 2011
Dr. Ananda R. Ganguly is the Morcos Massoud Associate Professor of Accounting and George R. Roberts Fellow in the Robert Day School of Economics and Finance. This evening's lecture marks Professor Ganguly's ceremonial installation as the inaugural holder of the chaired professorship instituted in honor of Professor Marc Massoud.
Professor Ganguly's talk will focus on some laboratory experimental research, including his own, on how economic decision makers – including investors, auditors and managers – might use information while making judgments and reaching decisions. He will focus particularly on discoveries of some very predictable patterns of human cognition that may lead to business judgments and decisions contrary to predictions of standard economic models. He will also relate these aberrations to a variety of other social contexts.

Ganguly earned his Ph.D. in Business Administration from the University of Pittsburgh in 1996. Prior to joining the faculty at Claremont McKenna, he served on the faculty at the University of Illinois at Urbana-Champaign and at Purdue University. He has won numerous awards and recognition for outstanding teaching, and currently teaches Financial Accounting and Strategic Cost Management.

In the year 1999-2000, he took a leave of absence from academia to serve as a Director and Academic Research Fellow at KPMG LLP at their international Assurance and Advisory Services Center (AASC) in Montvale, New Jersey. The task force to which he was assigned was charged with re-inventing KPMG's business model for assurance services in the 21st century.
Back in academia, his primary research interest lies in examining decision making in economic and accounting settings. His Ph.D. dissertation at the University of Pittsburgh won the prestigious Arthur Andersen Foundation fellowship, and he has since published in highly-ranked academic journals such as Accounting, Organizations and Society; Auditing: A Journal of Practice and Theory; Contemporary Accounting Research and the Journal of Risk and Uncertainty. He is a referee for a number of prestigious journals including some of the above, as well as The Accounting Review, Journal of Experimental Economics, Management Science, Journal of Accounting, Auditing and Finance, etc. In addition, he has presented papers and served as a discussant or moderator at numerous conferences and universities, and given talks to industry bodies on managerial and investor judgment and decision making.

Ananda Ganguly is a member of the American Accounting Association, and the Society for Judgment and Deicison Making. He is an avid photographer and hiker, a member of Mensa, and listed in Who's Who in America and in Who's Who Among America's Teachers.