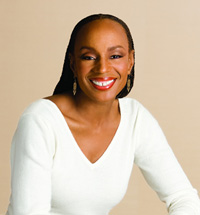 THE CLAREMONT COLLEGES ANNUAL MARTIN LUTHER KING, Jr. COMMEMORATION
Achieving Your Dream: Bold Visionary Leadership from the Inside Out
SUSAN L. TAYLOR
THURSDAY, JANUARY 26, 2012
As the soul of Essence magazine for over three decades, Taylor was the driving force behind one of the most celebrated African American owned business success stories. A fourth generation entrepreneur, she flourished in her leadership role, building the brand and guiding it through a period of phenomenal growth to a readership of over 8 million.

During this time she penned the popular "In the Spirit" column and wrote the best-selling books, In the Spirit: The Inspirational Writings of Susan L. Taylor (1993), and Lessons in Living (1998) and Confirmation: The Spiritual Wisdom That Has Shaped Our Lives (1999).

Now, as the Founder of National Cares Mentoring Movement, she shares her inspirational passion for empowering African Americans in a call to action to recruit mentors for at-risk youth. She continues to inspire hope and encourage us to reclaim our lives and create sustainable communities.

Genuine, energetic, and spiritual, Taylor's passion is to help people realize their strengths and take charge of their lives. She brings her gift of inspiration to every audience – sharing with them her prescription for adopting the best practices, both personally and professionally, that will help them find fulfillment and success in life.

This keynote presentation offers the tools for crafting a vision for one's life and leadership style that is energizing and inspiring. Susan L. Taylor demonstrates how passionate and effective leadership begins from within – with self-awareness. She shows how identifying and articulating one's personal path in life are critical steps in successfully leading others and being authentically respectful of their feelings, values and differences.