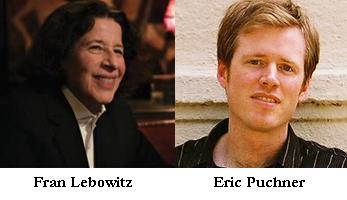 A Conversation with Fran Lebowitz
FRAN LEBOWITZ
ERIC PUCHNER
TUESDAY, FEBRUARY 28, 2012
"Great people talk about ideas, average people talk about things, and small people talk about wine." Not only is this good advice for the Athenaeum, but it also exemplifies Fran Lebowitz's frank but humorous evaluations of society and culture.

Lebowitz, a high school dropout (with GED) from New Jersey, has risen to become one of the country's most prolific social commentators and cultural icons. After receiving her GED, she moved to New York and worked various odd jobs, including cab driving. Her wit and intelligence endeared her to many in the New York cultural scene, and she was thrown into the 1970's literary lifestyle after befriending Andy Warhol, who hired her as a columnist for Interview magazine. After Interview, she worked briefly for Mademoiselle and published two collections of essays, Metropolitan Life (1978) and Social Studies (1981), now collected and published in The Fran Lebowitz Reader (1994).

Although known as a writer, these were the only written works by Lebowitz until 1995, when she published her children's book, Mr. Chas & Lisa Sue Meet the Pandas. Together, these three books comprise her entire set of published works. She recently broke a ten-year writer's block and is back at work on her novel, Exterior Signs of Wealth.

While the public craves ever more of Lebowitz's written word, she continues to be a beloved lecturer, guest-star on "Law and Order," and talk-show guest. A recent HBO documentary entitled "Public Speaking" and directed by Martin Scorsese chronicles her witty world-view and social repartee. Lebowitz is also an advocate for smoker's rights.


Eric Puchner, author of Model Home: A Novel (2010), is an assistant professor of literature here at CMC. Before joining our faculty in the fall of 2009, he lectured at the University of Arizona, San Francisco State University, and Stanford University. Puchner specializes in creative writing, and teaches a freshman humanities seminar on the comic voice.

Puchner attended Middlebury College, where he graduated Summa Cum Laude with a B.A. in English in 1993. In 1997, he completed his MFA in Creative Writing at the University of Arizona. In 2005, he published a collection of short stories called Music Through the Floor, which was a finalist for the New York Public Library's Young Lions Award. Puchner's work has appeared or is forthcoming in GQ, The Daily Beast, Zoetrope: All Story, Best New American Voices, and many more acclaimed journals and anthologies. He has received a Pushcart Prize and a National Endowment for the Arts grant.

Puchner's first novel, Model Home, has received much praise since its publication last year. Kevin O'Kelly of the Boston Globe writes, "Puchner is an extraordinarily talented writer. He's a master of mood and tone, able to make moments of pure hilarity follow heartbreak with the seamlessness of real life . . .every character is perfectly realized . . . the perfect novel for our time."

Fran Lebowitz's Athenaeum appearance is part of the ongoing series, Shifting Perceptions: Celebrating the Spectrum of Leadership.