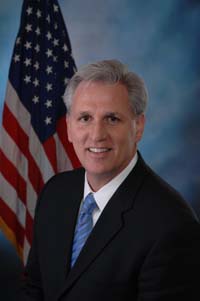 Leadership in Government: Remarks from Congressman Kevin McCarthy
KEVIN MCCARTHY
THURSDAY, APRIL 12, 2012
LUNCHEON 11:30 a.m.; LECTURE 12:00 p.m.
Congressman Kevin McCarthy has represented the 22nd District of California since 2006 — a district which spans Kern, San Luis Obispo and Los Angeles counties — and has served as the Majority Whip of the United States House of Representatives since 2010. He is committed to policies that give small businesses and entrepreneurs the confidence they need to hire, expand, invest and innovate.

McCarthy's career is characterized by early success; he started a deli business before he was 21, became active with then-Congressman Bill Thomas while in college, and in 2002 was elected to represent the 32nd Assembly District in the California State Assembly, where he remained until winning a Congressional seat in 2006. McCarthy's talk will explain how he advanced so quickly in his career: what has been important to his success, the lessons he has learned, and the various challenges and opportunities he has experienced along the way. McCarthy's talk is jointly sponsored by the Rose Institute of State and Local Government and the Kravis Leadership Institute.