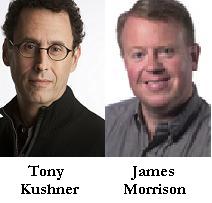 A Conversation
TONY KUSHNER
JAMES MORRISON
MONDAY, APRIL 16, 2012
Tony Kushner is among the most talented and treasured contemporary American writers. Composing for print, stage, and screen, Kushner's works confront the biggest challenges, conflicts, and conundrums of the American political identity.

Kushner is best known for the two-part epic Angels in America: A Gay Fantasia on National Themes (1993), which addresses the AIDS epidemic in Reagan-era New York and the conservative counter-revolution. His other plays include A Bright Room Called Day (1985), Slavs!Thinking about the Longstanding Problems of Virtue and Happiness (1996), Hydrotaphia: Or the Death of Dr. Browne (2000), Homebody/Kabul (2000), and Caroline, or Change (2004), the musical for which he wrote book and lyrics. Kushner has translated and adapted Pierre Corneille's The Illusion (1636), S.Y. Ansky's The Dybbuk (1914), Bertolt Brecht's The Good Person of Sezuan (1943) and Mother Courage and Her Children (1939), and the English-language libretto for the children's opera Brundibár (1938) by Hans Krasa. His books include But the Giraffe: A Curtain Raising (2012) and Brundibar: The Libretto (2003), with illustrations by Maurice Sendak; The Art of Maurice Sendak: 1980 to the Present (2003); and Wrestling with Zion: Progressive Jewish-American Responses to the Palestinian/Israeli Conflict (2003), co-edited with Alisa Solomon.

Kushner wrote the screenplays for Mike Nichols' film of Angels in America (2003), and Steven Spielberg's Munich (2005), as well as Spielberg's Lincoln (2012), the forthcoming adaptation of Doris Kearns Goodwin's Team of Rivals: The Political Genius of Abraham Lincoln (2009). His latest works are Tiny Kushner (2012), a collection of one-act plays, featuring characters such as Laura Bush, Nixon's analyst, the queen of Albania and a number of tax evaders; and The Intelligent Homosexual's Guide to Capitalism & Socialism with a Key to the Scriptures (2009).

Kushner is the recipient of a Pulitzer Prize for Drama, an Emmy Award, two Tony Awards, three Obie Awards, an Oscar nomination, an Arts Award from the American Academy of Arts and Letters, the PEN/Laura Pels Award for a Mid-Career Playwright, a Spirit of Justice Award from the Gay and Lesbian Advocates and Defenders, and a Cultural Achievement Award from The National Foundation for Jewish Culture, among many others. In September 2008, Tony Kushner became the first recipient of the Steinberg Distinguished Playwright Award, the largest theater award in the U.S. He was also awarded the 2009 Chicago Tribune Literary Prize for lifetime achievement.

The onstage interview will be conducted by CMC professor of literature and director of media studies, James Morrison. Professor Morrison teaches modern literature and film as well as occasional courses in creative writing. He is author, editor, or co-author of nine books, including most recently Roman Polanksi (University of Illinois Press, 2007) and Hollywood Reborn (Rutgers University Press, 2010). His novella, Everyday Ghosts (2011), was just published by Gemma Media.

This conversation between Tony Kushner and James Morrison is the final presentation of the year-long Athenaeum series, Shifting Perceptions.