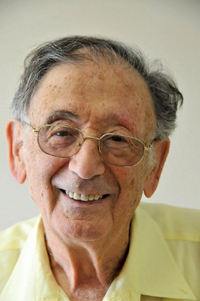 Genocide and the Holocaust
YEHUDA BAUER
TUESDAY, APRIL 17, 2012
LUNCHEON 11:30 a.m.; LECTURE 12:00 p.m.
For the eight days from April 15th through April 22nd, the United States will observe the Days of Remembrance for Victims of the Holocaust. During that week, the Athenaeum will host Yehuda Bauer, one of the world's leading Holocaust scholars.
Currently Academic Advisor at Yad Vashem in Israel, Bauer has previously taught at the Avraham Harman Institute of Contemporary Jewry at the Hebrew University of Jerusalem, the University of Honolulu at Manoa, Yale University, and Clark University. At Richard Stock College in New Jersey, Professor Bauer was the Ida E. King Distinguished Visiting Scholar of Holocaust Studies.

He presently serves on several professional committees, including the Yad Vashem Executive Committee, the Editorial Committee of Yad Vashem Studies, and the Editorial Committee of Yalkut Moreshet (the leading Hebrew Holocaust Studies Journal).

In 2006, Bauer addressed the UN General Assembly on the first International Holocaust Remembrance Day. He also serves as senior advisor to the Swedish Government on the International Forum on Genocide Prevention. Other awards and distinctions include membership in the Israel Academy of Sciences and Humanities, the Israel Prize for History of the Jewish People in 1998, and the Yakir Yerushalayim (Worthy Citizen of Jerusalem) award from the City of Jerusalem in 2008.

His publications include From Diplomacy to Resistance (1970), The Holocaust in Historical Perspective (1978), American Jewry and the Holocaust: The American Jewish Joint Distribution Committee, 1939-1945 (1982), Jews for Sale?: Nazi-Jewish Negotiations, 1933-1945 (1995), Rethinking the Holocaust (2001), and The Death of the Shtetl (2010), as well as about 90 articles in scholarly journals and yearbooks.

Yehuda Bauer's visit is sponsored by the Center for Human Rights Leadership and the Marian Miner Cook Athenaeum.