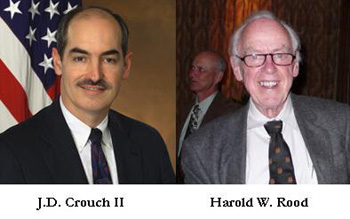 Nothing Happens For No Good Reason: The Scholarship and Teaching of Harold W. Rood
J.D. CROUCH II
THURSDAY, SEPTEMBER 27, 2012
LUNCHEON 11;30 a.m., LECTURE 12:00 p.m.
This is the inaugural lecture of the Harold W. Rood Memorial Lecture series, sponsored by the Salvatori Center and offered in honor of a great teacher, mentor, and friend of many Claremont McKenna College alumni, and many generations of students of history and international relations across the country. Professor Harold W. (Bill) Rood was an uncommon teacher, in both style and substance, who lived a thoroughly American life. He was born in Seattle, Washington, on August 19, 1922, and grew up at the Mare Island Naval Yard in California. He entered the Army Enlisted Reserve Corps in September 1942 (called to active duty in March 1943), and later served as a heavy machine gunner and a radio operator in Patton's Third Army, in the European Theater of Operations. He rose to the rank of private first class, and was proud of it.

After the war he obtained his B.A. in 1948, and then a Ph.D. in Political Science in 1960, from the University of California, Berkeley. His dissertation was on American preparations for war from 1918 to 1940. When the Korean War broke out, he became an order of battle specialist and then a strategic intelligence analyst in the Army Reserve. He served, too, on the staff and faculty of the Sixth Army Intelligence School, Fort Ord and Fort MacArthur, California (1958-1964, 1968-1974).

Dr. Rood was appointed to the Government Department faculty of Claremont Men's College in 1962. In due course he was promoted to associate and full professor, and in the early 1980s he was appointed to hold the first W.M. Keck Foundation Chair of International Strategic Studies. Professor Rood won multiple Outstanding Teacher Awards at CMC, and established himself as a favorite among the CMC undergrads while attracting a loyal following from then-Claremont Graduate School (now University). He is survived by his wife Juanita, and daughters Hilary and Elizabeth.

J.D. Crouch II is currently President of the Technology Solutions Group of QinetiQ North America. He assumed this role in November 2009 from the position of QinetiQ's Executive Vice President for Strategic Development.

Crouch was Assistant to the President and Deputy National Security Advisor until June 2007. He was a senior advisor to the President on national security matters, chaired the sub-cabinet Deputies Committee, and was second in command at the National Security Council. He also serves on several government advisory boards including the Defense Policy Board and the NSA Advisory Board. He has twice been awarded the Department of Defense Distinguished Public Service Medal. His other honors include the Alumni Merit Award from the University of Southern California in 2006 and the Military Merit Grand Cross with White Ribbon, from the Kingdom of Spain in 2003.

Dr. Crouch holds Ph.D., M.A., and B.A. degrees in International Relations from the University of Southern California and has written on a wide range of defense and foreign policy issues.