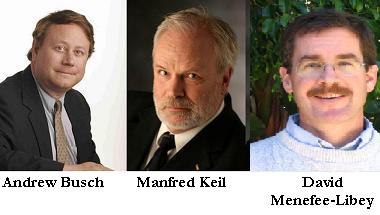 Presidential Election 2012: And the Winner is ...?
ANDREW BUSCH
MANFRED KEIL
DAVID MENEFEE-LIBEY
WEDNESDAY, SEPTEMBER 19, 2012
With the election two months away, both President Obama and Governor Romney are seen in a neck to neck race towards the finish line, with no clear winner in sight. The race seems to come down to the outcome in fewer than ten swing states. This evening's Round Table Discussion will feature CMC professors Andrew Busch (Government), Manfred Keil (RDS), and Jack Pitney (Government), each offering their own overview of the election forecast and the reasoning behind it. While the participants have not revealed their forecast in public, we can be assured that their views about the election outcome will be as diverse as the views of the electorate in current polls. Following their presentations, each professor will briefly comment on the strengths and shortcomings of the analysis of the other presenters. There will be time for Q&A immediately following the presentation.

Andy Busch: Although he led Mitt Romney in head-to-head polling averages throughout the summer, President Obama is in electoral trouble. His approval ratings remain mediocre, his chief legislative accomplishments are unpopular, and by a 2-1 ratio Americans say the country is going in the wrong direction. Barring unforeseen events, signs are pointing to either a Romney win or a narrow reelection for Obama.

Manfred Keil: Bad economic news during an election year is usually the death knell of any campaign. Obama's intrinsic popularity complemented by Romney's deficiencies as a candidate may overcome the negative economic influences for the upcoming election. The economy does not carry nearly as much weight as Republicans would hope.

Due to unforeseen circumstances, Professor Jack Pitney will not be able to participate in this Faculty Roundtable discussion. David Meneffee-Libey, professor of politics at Pomona College, has graciously agreed to step in. More information to follow.