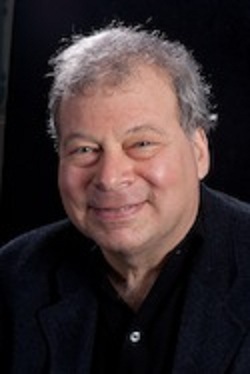 The Poet Reads from His Work
AUGUST KLEINZAHLER
WEDNESDAY, NOVEMBER 7, 2012
August Kleinzahler doesn't like to call himself a poet. He says "most poets are shiftless, no-account fools." Yet Mr. Kleinzahler has been very successful avoiding this stereotype; his work has been described by The New York Times as "a modernist swirl of sex, surrealism, urban life and melancholy with a jazzy beat."

Kleinzahler was born in Jersey City, New Jersey, in 1949, and raised in Fort Lee, New Jersey. After graduating from the University of Victoria, he wrote a music column for the San Diego Reader before starting his career as an author, essayist, and poet. He is the author of ten books of poetry, including: The Strange Hours Travelers Keep (2004), winner of the International Griffin Poetry Prize; Live from the Hong Kong Nile Club: Poems: 1975-1990 (2000); Green Sees Things in Waves (1999); and Red Sauce, Whiskey and Snow (1995). He is also the author of the meditative memoir Cutty, One Rock: Low Characters and Strange Places, Gently Explained (2004).

His reputation as a divisive, opinionated figure was confirmed in 2004 when he wrote a scathing response to Garrison Keillor's poetic taste on his NPR segment in Poetry Magazine. He critiqued Keillor for his persistent selection of only "anecdotal" and "wistful" poems.

Kleinzahler's honors include a fellowship from the Guggenheim Foundation, the Lila Acheson-Reader's Digest Award for Poetry, an Academy Award in Literature from the American Academy of Arts and Letters, a Berlin Prize Fellowship, the Griffin International Poetry Prize, and the post of poet laureate in Fort Lee, New Jersey.

Kleinzahler is a Gould Center Visiting Fellow teaching a special seminar on modern poetry and thought entitled "Speed, Compression, Kablooey: Paris, New York, and the New Poetries."