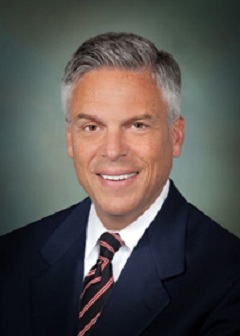 2012 Elections and the Challenges Facing America Today
JON HUNTSMAN, JR.
THURSDAY, NOVEMBER 1, 2012
Jon Huntsman served as Ambassador to China from 2009 thru April, 2011 when he stepped down to run for the 2012 Republican nomination for President. Prior to serving as Ambassador to China, Huntsman was twice elected as Governor of Utah, including in 2008 with a record percent of the vote, including the majority in all 29 counties. As Governor, Huntsman governed with his eye toward maintaining Utah's unparalleled quality of life, continually increasing the state's economic competitiveness and maximizing funding to Utah's public education system.

Huntsman's public service career began as a White House staff assistant to President Ronald Reagan and has since included appointments as Deputy Assistant Secretary of Commerce for Asia, U.S. Ambassador to Singapore and Deputy U.S. Trade Representative. As a U.S. Trade Ambassador, Huntsman negotiated dozens of free trade agreements, trade and investment framework agreements and brokered other bi-lateral and multi-lateral trade agreements for the United States with China, Taiwan, Singapore, Australia, India, Vietnam, West Africa, South Africa and other Asian and African nations. He played a critical role in launching global trade negotiations in Doha, Qatar in November of 2001, guiding the simultaneous accession of China and Taiwan into the World Trade Organization.

He is a founding director of the Pacific Council on International Policy and has served on various boards such as the Brookings Institute Asia Policy Board, the Center for Strategic and International Studies Pacific Forum, the Asia Society in New York and the National Bureau of Asian Research.

During his tenure as Governor, Utah was repeatedly recognized by many prestigious organizations for its dynamism, business climate and quality of life. Perhaps most importantly, Utah was named by the Pew Center as the Best Managed State in America. Even in times of economic hardship, Recognized nationally for his leadership, Huntsman served as chairman of the Western Governors Association and on the Executive Committee of the National Governors Association. He is a graduate of the University of Pennsylvania and has four honorary doctorate degrees.

Jon Huntsman is the fourteenth Pacesetters Fellow to visit Claremont McKenna College. The Pacesetters Fellowship Program is the culmination of the hard work and dedication of alumni from the College's first three graduating classes of 1948, 1949, and 1950 — the Pacesetters. This program attracts distinguished leaders in business, academia, and public affairs to Claremont McKenna College for one-on-one interactions with students.