Athenaeum Location
Print Newsletter
November 26, 2012
Vol. 28, No. 06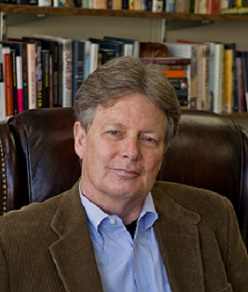 The Amistad Rebellion: A History from Below
MARCUS REDIKER
MONDAY, NOVEMBER 26, 2012
On June 28, 1839, the Spanish slave schooner Amistad set sail from Havana on a routine delivery of human cargo. On a moonless night, after four days at sea, the captive Africans rose up, killed the captain, and seized control of the ship. They attempted to sail to a safe port, but were captured by the United States Navy and thrown into jail in Connecticut. Their legal battle for freedom eventually made its way to the Supreme Court, where their cause was argued by former President John Quincy Adams. In a landmark ruling, they were freed, and eventually returned to Africa. The rebellion became one of the best-known events in the history of American slavery, celebrated as a triumph of the legal system in films and books, all reflecting the elite perspective of the judges, politicians, and abolitionists involved in the case.

In his new book, The Amistad Rebellion: An Atlantic Odyssey of Slavery and Freedom, renowned historian Marcus Rediker tells a different tale, one that reclaims the rebellion for its true proponents: the African rebels who risked death to stake a claim for freedom. Using newly discovered evidence, Rediker reframes the story to show how a small group of courageous men fought and won an epic battle against Spanish and American slaveholders and their governments. He reaches back to Africa to find the rebels' roots, narrates their cataclysmic transatlantic journey, and unfolds a prison story of great drama and emotion. He shows how the rebels captured the popular imagination and helped to inspire and build a movement that was part of a grand global struggle between slavery and freedom.

This lecture will explore the famous and dramatic rebellion on the Amistad, its African origins and cultural logic, its American chapter, and its Atlantic consequences.

Marcus Rediker is Distinguished Professor of Atlantic History at the University of Pittsburgh. He is the author of several prize-winning books, including Between the Devil and the Deep Blue Sea: Merchant Seamen, Pirates, and the Anglo-American Maritime World, 1700-1750, The Many-Headed Hydra: Sailors, Slaves, Commoners, and the Hidden History of the Revolutionary Atlantic (co-authored with Peter Linebaugh), Villains of All Nations: Atlantic Piracy in the Golden Age, and most recently The Slave Ship: A Human History. He has lectured extensively throughout the world, and his work has been translated into French, German, Greek, Hebrew, Italian, Japanese, Korean, Portuguese, Russian, Spanish, Swedish, and Turkish. He is also the companion of a big, badly-behaved English bulldog, Jellybean.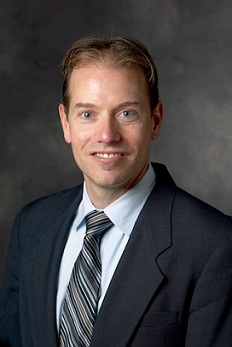 What Does History Have to Teach Us about Banking Panics and Central Bank Responses to Them?
KRIS JAMES MITCHENER
TUESDAY, NOVEMBER 27, 2012
LUNCHEON 11:30 a.m.; LECTURE 12:00 p.m.
The recent financial crisis brought to our attention the important role central banks play in mitigating financial crises. Can economic theory and history provide guidance as to when it is appropriate to intervene? Walter Bagehot, former editor of the Economist, long ago suggested that central banks should lend freely at a penalty rate when banks are in need of liquidity. What about situations when banks appear to be insolvent? Professor Mitchener discusses the Florida banking panic of 1929 to show how solvency shocks can lead to liquidity events and create banking panics, thus complicating the decision-making for central bankers. He explains how a central bank, in this case, acted to calm the panic and prevent an even larger run on a banking system.

Kris James Mitchener is Professor of Economics at the University of Warwick. He is currently on leave from Santa Clara University, where he is the Robert and Susan Finocchio Professor of Economics. He is also a Research Associate at the National Bureau of Economic Research. His research focuses on international economics, macroeconomics, monetary economics, and economic history. In particular, he examines how banking supervision and regulation affect financial stability and how national capital markets emerge. His work in international economics explores why countries adopt fixed exchange rate systems, how fixed exchange rates impact sovereign debt spreads, how sovereign debt claims are enforced, and how empires, currency unions, and fixed exchange rate systems impact trade flows between countries.

Mitchener's research analyzes the impact of credit booms on aggregate output, price targeting, and the process of economic growth and convergence within the United States during the 19th and 20th centuries. Professor Mitchener's research is published in the Journal of Political Economy, Economic Journal, the Journal of Law and Economics, the Journal of Economic Growth, the Journal of International Money and Finance, the Journal of Money, Credit, and Banking, the Journal of Economic History, Monetary and Economic Studies, the Oxford Review of Economic Policy, Explorations in Economic History, and Research in Economic History.

From 2009-2011, he was the W. Glenn Campbell and Rita-Ricardo Campbell National Fellow at the Hoover Institution, Stanford University. He has held visiting positions at the Bank of Japan, the St. Louis Federal Reserve Bank, UCLA, and CREi at Universitat Pompeu Fabra and has served on the editorial boards of the Journal of Economic History, Cliometrica, and Economics. Professor Mitchener received his B.A. and Ph.D. from the University of California, Berkeley. His visit to CMC is sponsored by the Lowe Institute for Political Economy.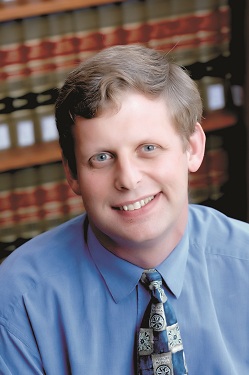 Mechanisms of the Slippery Slope
EUGENE VOLOKH
TUESDAY, NOVEMBER 27, 2012
Slippery slope arguments -- we've all made some, and we've all pooh-poohed others. Liberals, conservatives, and libertarians all make them, though in different fields, whether free speech, privacy, abortion, euthanasia, gun control, same-sex marriage, or many others. Do these arguments make sense, and, if so, when? How can we evaluate them better, and make them more effectively? Professor Volokh, author of "The Mechanisms of the Slippery Slope," 116 Harv. L. Rev. 1026 (2003),
http://www.law.ucla.edu/volokh/slipperyshorter.pdf
will address these questions, and more, in his Athenaeum lecture.
Eugene Volokh is the author of the textbooks
The First Amendment and Related Statutes
(4th ed. 2011),
The Religion Clauses and Related Statutes
(2005), and
Academic Legal Writing
(4th ed. 2010), as well as over 70 law review articles and over 80 op-eds. He is a member of
The American Law Institute
, a member of the
American Heritage Dictionary
Usage Panel, and the founder and coauthor of
The Volokh Conspiracy
, a Weblog that gets about 20,000 visits per weekday. He is among the five most cited under-45 faculty members listed in the
Top 25 Law Faculties in Scholarly Impact, 2005-2009
study, and among the forty most cited faculty members on that list without regard to age. These citation counts refer to citations in law review articles, but his works have also been cited by courts. Six of his law review articles have been cited by opinions of the Supreme Court Justices; twenty-one of his works (mostly articles but also a textbook, an op-ed, and a blog post) have been cited by federal circuit courts; and several others have been cited by district courts or state courts.
Volokh worked for 12 years as a computer programmer, and is still partner in a small software company which sells HP 3000 software that he wrote. He graduated from UCLA with a B.S. in math-computer science at age 15, and has written many articles on computer software. Volokh was born in the USSR; his family emigrated to the U.S. when he was seven years old.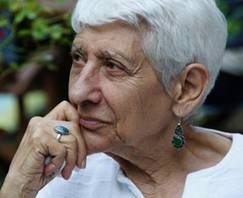 Sex, Race, and Class: The Perspective of Winning
SELMA JAMES
WEDNESDAY, NOVEMBER 28, 2012
LUNCHEON 11:30 a.m.; LECTURE 12:00 p.m.
Selma James is an anti-sexist, anti-racist, anti-capitalist campaigner and author. Raised in a movement household, she joined C.L.R. James's Johnson-Forest Tendency at age 15, and from 1958 to 1962 she worked with him in the movement for Caribbean federation and independence. In 1972, she founded the International Wages for Housework Campaign, and in 2000 she helped launch the Global Women's Strike which she coordinates. She coined the word "unwaged" to describe most of the caring work women do, and it has since entered the English language to describe all the work without wages of women, children and men, in the home, on the land, in the community.

In 1975 James became the first spokeswoman of the English Collective of Prostitutes. She is a founding member of the International Jewish Anti-Zionist Network (2008). She has addressed the power relations within the working class movement, and organizing across sectors despite divisions of sex, race, age, etc., South and North. She spoke to packed audiences at Occupy in London, England, as well as Los Angeles, Oakland, Philadelphia, and San Francisco.

Since 2000 James has been international coordinator of the Global Women's Strike, a network of grassroots women, bringing together actions and initiatives in many countries. The Strike demands that society "Invest in Caring Not Killing", and that military budgets be returned to the community starting with women, the main caregivers everywhere. She has been working with the Venezuelan Revolution since 2002.

James lectures in the UK, U.S. and other countries on a wide range of topics including, "What the Marxists Never Told Us about Marx", "The Internationalist Jewish Tradition", "Rediscovering Nyerere's Tanzania", "CLR James as a political organizer", and "Sex, Race & Class". Her presentation at the Athenaeum is co-sponsored by Intercollegiate Women's Studies of the Claremont Colleges and the Marian Miner Cook Athenaeum at CMC.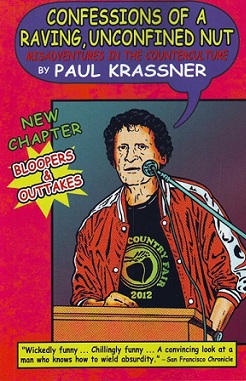 Who's to Say? A Life Lived on the Edge
PAUL KRASSNER
WEDNESDAY, NOVEMBER 28, 2012
When Paul Krassner, the founder and editor of The Realist, was called the father of the underground press in America, he demanded a paternity test. But Krassner is not merely irreverent. For more than half a century, he has not only tested but often defined the limits of public discourse and imprinted his style of irreverence on the American social and political landscape. The New York Times once described Krassner as "an expert at ferreting out hypocrisy from the more solemn crannies of American culture."

Kurt Vonnegut recounted "I told Krassner that his writings made me hopeful. He found this an odd compliment to offer a satirist. I explained that he made supposedly funny matters seem ridiculous, and that this inspired many of his readers to decide for themselves what was ridiculous and what was not. Know that there were people doing that . . .made me optimistic."

As editor of The Realist in the sixties and seventies, Krassner approached journalism not as an objective observer but as a participant in many of the stories he covered. His brand of "new journalism" was particularly fresh. He wrote about the antiwar movement while he was an active member of it. He wrote about the psychedlic revolution and passed the acid tests with flying colors. Later Krassner joined novelist Ken Kesey to edit "The Last Supplement to the Whole Earth Catalogue" and participated with Bill Murray and William Burroughs in "The Poetic Hoo Ha Festivals". He walks with a cane because of a beating he suffered at the hands of San Francisco police during the riot following the voluntary-manslaughter verdict in the trial of Dan White, who had assassinated Mayor George Moscone and City Supervisor Harvey Milk.

In 1967 Krassner cofounded (with Abbie Hoffman and Jerry Rubin) the Yippies, a countercultural political party that led theatrical demonstrations outside the 1968 Democratic convention in Chicago. His friends John Lennon and Yoko Ono financed a 1972 issue of The Realist that exposed the Watergate break-in before journalists Bob Woodward and Carl Bernstein did so in the mainstream press. At the height of the Vietnam War, Krassner was on an FBI list of radicals to be rounded up in the event of a national emergency. His FBI files indicate that after Life magazine published a favorable profile of him, the FBI sent a letter to the editor, complaining: "To classify Krassner as a social rebel is far too cute. He's a nut, a raving, unconfined nut."

"The FBI was right," George Carlin later wrote, "This man is dangerous – and funny; and necessary." Lewis Black has said "Paul Krassner is an activist, a philosopher, a lunatic, a saint, but most of all he is funny."

In 2004 Krassner received an American Civil Liberties Union Upton Sinclair Award for his dedication to freedom of expression. His articles have been published in Rolling Stone, Playboy, Penthouse, Mother Jones, the Nation, the New York Press, National Lampoon, the Village Voice, the Los Angeles Times, and Funny Times. He is the only person in the world ever to win awards from both Playboy (for satire) and the Feminist Party Media Workshop (for journalism). The Realist printed its last issue in 2001.

Krassner has released six comedy albums and authored numerous books, including his autobiography, Confessions of a Raving, Unconfined Nut: Misadventures in the Counter-Culture (Touchstone) — which has recently been updated for a new edition — and his most recent collection, Who's to Say What's Obscene? Politics, Culture, and Comedy in America Today, was published by City Lights Books.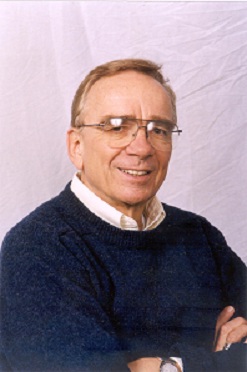 Sufis and the Growth of Islam in India -- Two Patterns
RICHARD EATON
THURSDAY, NOVEMBER 29, 2012
LUNCHEON 11:30 a.m., LECTURE 12:00 p.m.
Richard Eaton is currently a professor of history at the University of Arizona, where he teaches History of Medieval India, History of Modern India and Pakistan, and Comparative History. His research interests focus on the social and cultural history of premodern India (1000-1800), and especially on the range of historical interactions between Iran and India, and on Islam in South Asia.

He has published monographs on the social roles of Sufis (Muslim mystics) in premodern Bijapur, on the growth of Islam in Bengal, and on the social history of the Deccan from 1300 to 1761. He is currently co-authoring a monograph to be titled Power, Memory, and Architecture: Contested Sites in the 16th Century Deccan. His recent works include Slavery and South Asian History (co-edited with Indrani Chatterjee) (2006), Social History of the Deccan, 1300-1761: Eight Indian Lives (2005), and Temple Desecration and Muslim States in Medieval India (2004).

Richard Eaton's lecture is third in a series of lectures on South Asia sponsored by the President's office and the department of religious studies.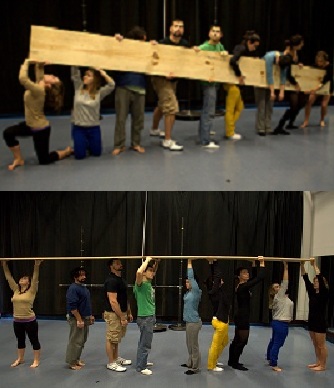 Broken Borders/"earth's imagined corners"
STUDENTS IN THEATRE 50: COLLECTIVE CREATION
THOMAS LEABHART, director
THURSDAY, NOVEMBER 29, 2012
A new collective creation based on immigration and border crossing - mental, spiritual and geographic. Voluntary or involuntary immigration concerns, or even preoccupies, many people in the world today. In the United States, as almost everyone or their ancestors came here seeking a new life, a new start in a new world, we are predominately a nation of immigrants. Many broke the borders of what John Donne calls "earth's imagined corners" to assert its innate roundness, and their innate wholeness: their right to travel over earth searching for home. Student actors in Thomas Leabhart's Collective Creation class (Theatre 50) interviewed subjects, posing questions about physical and mental border crossing, and using documentary theatre techniques (sometimes known as "verbatim theatre") devised by Anna Deavere Smith to create a performance based on these interviews. A performance rich in music, stories, and movement.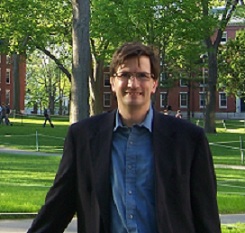 Narratives of Dissent
JONATHAN BOLTON
MONDAY, DECEMBER 3, 2012
LUNCHEON 11:30 a.m.; LECTURE 12:00 p.m.
After the Cold War, the western image of the dissident was a mixture of romanticism and political idealism (jailed intellectual, secret publications or the courage to speak out at great personal risk). But these images have been largely defined by Western writers and journalists and do not describe the complex reality and ironic attitudes that defined dissent in Central Europe's struggles against state repression. In his groundbreaking new book, "Worlds of Dissent," Jonathan Bolton considers how such legendary figures as Vaclav Havel but also many other writers and artists--including Ludvik Vaculik (author of the diary "The Czech Dream Book") and the rock group "The Plastic People of the Universe"--contributed in their own ways to pushing the communist government in Czechoslovakia to respect human rights but hesitated to call or consider themselves "dissidents." The life stories Bolton describes revise misleading and burdensome concepts of the dissident. Havel himself dismissed the term "dissident" because "the more some citizens stand up in defense of other citizens, the more they are labeled with a word that in effect separates them. And there were disagreements with Havel. Bolton offers a rare portrait of the complexity of dissent in a closed society.

Bolton, Professor of Slavic Languages and Literatures at Harvard University, has also edited and translated the poems of Ivan Wernisch In the Puppet Gardens: Selected Poems, 1963-2005. A graduate of Harvard College, Bolton received his Ph.D. from the University of Michigan and was elected to the Harvard University Society of Fellows. His talk is sponsored by the Milosz Institute and the Gould Center for Humanistic Studies.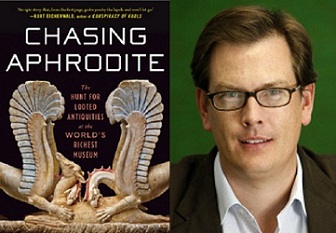 Hunting for Looted Antiquities at the World's Museums
JASON FELCH
MONDAY, DECEMBER 3, 2012
Jason Felch is an investigative reporter with the Los Angeles Times. Prior to joining the LA Times in 2004, he was a fellow at the Center for Investigative Reporting and a freelance journalist on topics such as money laundering, arms trafficking and drilling for natural gas in the Peruvian rainforest. At the LA Times, he has written on such topics as arms trafficking, forensic DNA, disaster fraud, money laundering and California's public education system.
In 2006 Felch was a finalist for the Pulitzer Prize in Investigative Reporting for exposing the role of the J. Paul Getty Museum and other American museums in the illegal trafficking of looted antiquities. His work has also been honored by the National Journalism Awards, Investigative Reporters and Editors, the National Association of Science Writers, the Education Writers Association, and the Society for Environmental Journalism.

In 2011, Felch published his first book, entitled Chasing Aphrodite: The Hunt for Looted Antiquities at the World's Richest Museum, co-written with fellow LA Times journalist Ralph Frammolino. Chasing Aphrodite has been awarded the California Book Award, the SAFE Beacon Award and the ARCA Award for Art Crime Scholarship. The book examines the scandalous revelations that the Getty – one of the world's richest and most troubled museums – had been buying looted antiquities for decades. Chasing Aphrodite has been called a "vitally important account of how one of America's top cultural institutions spent millions buying treasures stolen from ancient graves and then spent millions more trying to deny it."

Felch received a bachelor's degree in philosophy from Boston College and masters in journalism from U.C. Berkeley. Before entering journalism, he was a teacher and founded an after-school program in San Francisco.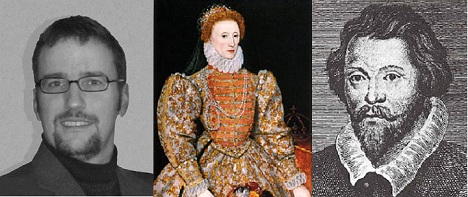 A Winter Holiday Concert: Mass for Four Voices by William Byrd and Holiday Carols
CLAREMONT CHAMBER CHOIR
CHARLES KAMM, conductor
TUESDAY, DECEMBER 4, 2012
The Chamber Choir of Claremont McKenna, Harvey Mudd, Pitzer, and Scripps Colleges, conducted by Charles W. Kamm and accompanied by Paul R. Bishop, will present a winter holiday concert at the Marian Miner Cook Athenaeum at Claremont McKenna College on December 4, 2012. The program features the transcendent Mass for Four Voices by the master of English renaissance music, William Byrd. This work was written for the chapel of Elizabeth I and demonstrates the art of polyphony that exemplifies the high renaissance. The concert will also include holiday carols, including "The Shepherd's Carol" by Bob Chilcott, a former member of the renowned Kings Singers.

The Chamber Choir was founded in fall 1977, by Professor Michael Deane Lamkin. It is currently comprised of 21 members who also sing with the Concert Choir and functions as an integral part of the music curriculum of the Claremont Colleges.

Charles Kamm is director of choirs for the Joint Music Program of Claremont McKenna, Harvey Mudd, Pitzer, and Scripps Colleges as well as associate professor of music at Scripps College where he is currently chair of the music department. In addition to conducting the choirs, Professor Kamm teaches music history at Scripps College. Areas of scholarly interest include Baroque and Classical performance practice, Igor Stravinsky, Benjamin Britten, musical theater in the U.S., and Scandinavian choral music. He received his Doctor of Musical Arts degree from Yale University. Earlier studies include a Bachelor of Arts degree in music from Earlham College in Richmond, Indiana, and a Master of Music degree from Michigan State University. He has also studied in Vienna, Austria, and at the Sibelius Academy in Helsinki, Finland, as a Fulbright Scholar in 2002-2003. A tenor, Dr. Kamm is also active as a vocal performer. He has performed recitals of the songs of Franz Schubert, Robert Schumann, Clara Schumann, Charles Ives, Samuel Barber, and Benjamin Britten in the United States and in Europe.

The evening begins with a traditional Holiday meal prepared by the renowned Athenaeum kitchen staff: Chef David Skinner, Juan Herrera, Angela Fitch, and Byron Figueroa.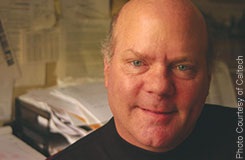 Neuroeconomics: How Brains Decide What Stocks to Trade and What Foods to Eat
COLIN CAMERER
WEDNESDAY, DECEMBER 5, 2012
Neuroeconomics is the study of how measured brain activity is mapped into mathematical constructs which are associated with choices. Since economics has historically been agnostic about underlying neural mechanisms, this approach is new and controversial. This talk illustrates new ideas from studying brain activity in two important areas; financial trading; and choosing whether to eat tempting foods. In trading, we describe why people are often eager to sell winning stocks and hold on to losing stocks (even when they should do the opposite). In choosing foods, we describe what neural circuits are in charge of resisting temptation to choose unhealthy junk foods that taste good.

Colin Camerer is the Robert Kirby Professor of Behavioral Economics at Caltech. He earned a Ph.D. from the University of Chicago in 1981 and worked at Northwestern, Penn, and Chicago before Caltech. He has published more than 150 peer-reviewed articles and book chapters and wrote or co-edited four books, most notably Behavioral Game Theory in 2003.

Camerer's research group is interested in the psychological and neural basis of choice, strategizing in games, and trading in markets. His group uses many methods, including MRI, EEG, TMS, studies of chimpanzees, experiments in field settings, and analysis of field data on taxi cabs, sports performance, and movie revenues. Prof. Camerer has been the past president of the Economic Science (experimental economics), the Society for Neuroeconomics, and was elected a Fellow of the Econometric Society.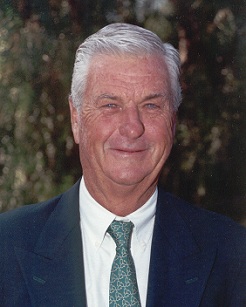 Lunch with a Leader: Entrepreneurism
GARY BISZANTZ '56 P'08
FRIDAY, DECEMBER 7, 2012
LUNCHEON 11:30 a.m.; LECTURE 12:00 p.m.
Gary Biszantz is the former chairman of Cobra Golf, Inc., a manufacturer of graphite-shafted golf clubs with factories and offices in Carlsbad. Mr. Biszantz began his career as a car sales representative in 1957 and quickly became general sales manager. In 1969, he built his own dealership, El Rancho Ford in Poway, and ran it successfully until the mid-1980s when he sold it due to the expansion of Cobra Golf, which he then co-owned. As chairman of the board of Cobra, he provided strategic planning and general management services to the company, which grew into the country's second-largest manufacturer of premium oversized golf clubs.

After selling his company to American Brands in 1996, Mr. Biszantz turned his time and talent to one of his lifelong passions: thoroughbred racing. Committed to improving racing, he has served on the Executive Committee and Graded Stakes Committee of the Thoroughbred Owners and Breeders Association, and also served on the board of the Breeders' Cup.

Mr. Biszantz was introduced to racing through his father, and has owned horses since 1956. He currently owns Cobra Farm which is located in Lexington, Kentucky, and through the end of 2011, his horses have won over 400 races while finishing in the money over 50% of the time.

Biszantz's philanthropic record is as impressive as his entrepreneurial success. Through the Biszantz Charitable Foundation, he has supported numerous children's activities as well as the creation of the Biszantz Family Tennis Center at CMC.

Mr. Biszantz holds a B.A. in business administration from Claremont McKenna College and serves as a life trustee on the Board of Trustees at CMC. He received CMC's George C.S. Benson Distinguished Achievement Award in 2006.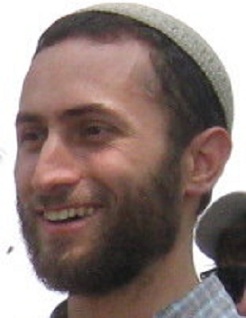 Environmental Sustainability and Interfaith Eco Cooperation in the Holy Land
JONATHAN NERIL
MONDAY, DECEMBER 10, 2012
LUNCDHEON 11:30 a.m.; LECTURE 12:00 p.m.
Jonathan Neril founded and directs The Interfaith Center for Sustainable Development and its branches Jewish Eco Seminars and Eco Israel Tours. A native of California, he completed an M.A and B.A.from Stanford University with a focus on global environmental issues, and received rabbinical ordination in Israel. He has spoken widely on religion and the environment, and organized two interfaith environmental conferences in Jerusalem in which religious leaders of several faiths spoke. He is the lead author and general editor of two publications on Jewish environmental ethics. He lives with his wife, Shana, and son, Shacharya, in Jerusalem.
More information about his work can be found at
www.interfaithsustain.com
and
www.jewishecoseminars.com
.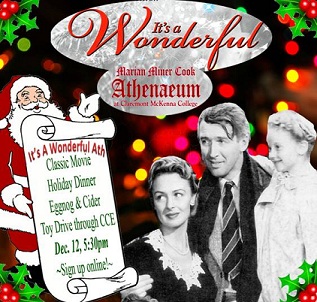 It's A Wonderful Ath
M.M.C. Athenaeum
WEDNESDAY, DECEMBER 12, 2012
As finals approach, the average temperature drops below 80 degrees, and your neighbor won't stop playing Feliz Navidad, everyone needs a time to sit back, relax, eat, and watch a movie.
"It's a Wonderful Ath" will be a different Ath experience, complete with holiday-themed culinary masterpieces, eggnog, hot cider, and, most importantly, a lecture on the "Historic Pagan Origins of Christmas Trees".

Just kidding! At "It's a Wonderful Ath", we will screen the classic holiday film "It's a Wonderful Life" starring former CMC trustee James Stewart. You may have heard of it. Released in 1946, it is still considered to be one of the best loved films in American cinema. . This is definitely an evening that you will not want to miss. So, whip out your gaudy holiday sweaters, bells, Rudolph noses, reindeer antlers, greens, reds, snow-themed attire, and Santa hats.

If you aren't sold already – here you go. The Ath is teaming up with CCE (The Center for Civic Engagement) to make this an enjoyable holiday not only for CMC students – but also for the children in residence at Loma Linda Children's Hospital.
To guarantee the success of this toy drive, everyone attending this dinner is required to bring an unwrapped toy. Feel free to splurge if you feel exceedingly generous, but if not, we suggest you keep your gift in the $5-$10 range.

We really hope to see you there! The food will be tasty, the movie will be great, and your toy donations will be important to CMC's outreach to the community.