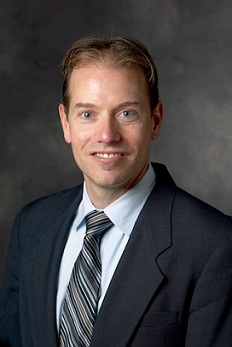 What Does History Have to Teach Us about Banking Panics and Central Bank Responses to Them?
KRIS JAMES MITCHENER
TUESDAY, NOVEMBER 27, 2012
LUNCHEON 11:30 a.m.; LECTURE 12:00 p.m.
The recent financial crisis brought to our attention the important role central banks play in mitigating financial crises. Can economic theory and history provide guidance as to when it is appropriate to intervene? Walter Bagehot, former editor of the Economist, long ago suggested that central banks should lend freely at a penalty rate when banks are in need of liquidity. What about situations when banks appear to be insolvent? Professor Mitchener discusses the Florida banking panic of 1929 to show how solvency shocks can lead to liquidity events and create banking panics, thus complicating the decision-making for central bankers. He explains how a central bank, in this case, acted to calm the panic and prevent an even larger run on a banking system.

Kris James Mitchener is Professor of Economics at the University of Warwick. He is currently on leave from Santa Clara University, where he is the Robert and Susan Finocchio Professor of Economics. He is also a Research Associate at the National Bureau of Economic Research. His research focuses on international economics, macroeconomics, monetary economics, and economic history. In particular, he examines how banking supervision and regulation affect financial stability and how national capital markets emerge. His work in international economics explores why countries adopt fixed exchange rate systems, how fixed exchange rates impact sovereign debt spreads, how sovereign debt claims are enforced, and how empires, currency unions, and fixed exchange rate systems impact trade flows between countries.

Mitchener's research analyzes the impact of credit booms on aggregate output, price targeting, and the process of economic growth and convergence within the United States during the 19th and 20th centuries. Professor Mitchener's research is published in the Journal of Political Economy, Economic Journal, the Journal of Law and Economics, the Journal of Economic Growth, the Journal of International Money and Finance, the Journal of Money, Credit, and Banking, the Journal of Economic History, Monetary and Economic Studies, the Oxford Review of Economic Policy, Explorations in Economic History, and Research in Economic History.

From 2009-2011, he was the W. Glenn Campbell and Rita-Ricardo Campbell National Fellow at the Hoover Institution, Stanford University. He has held visiting positions at the Bank of Japan, the St. Louis Federal Reserve Bank, UCLA, and CREi at Universitat Pompeu Fabra and has served on the editorial boards of the Journal of Economic History, Cliometrica, and Economics. Professor Mitchener received his B.A. and Ph.D. from the University of California, Berkeley. His visit to CMC is sponsored by the Lowe Institute for Political Economy.