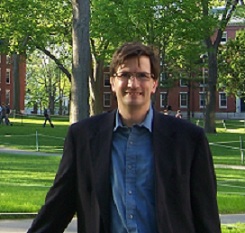 Narratives of Dissent
JONATHAN BOLTON
MONDAY, DECEMBER 3, 2012
LUNCHEON 11:30 a.m.; LECTURE 12:00 p.m.
After the Cold War, the western image of the dissident was a mixture of romanticism and political idealism (jailed intellectual, secret publications or the courage to speak out at great personal risk). But these images have been largely defined by Western writers and journalists and do not describe the complex reality and ironic attitudes that defined dissent in Central Europe's struggles against state repression. In his groundbreaking new book, "Worlds of Dissent," Jonathan Bolton considers how such legendary figures as Vaclav Havel but also many other writers and artists--including Ludvik Vaculik (author of the diary "The Czech Dream Book") and the rock group "The Plastic People of the Universe"--contributed in their own ways to pushing the communist government in Czechoslovakia to respect human rights but hesitated to call or consider themselves "dissidents." The life stories Bolton describes revise misleading and burdensome concepts of the dissident. Havel himself dismissed the term "dissident" because "the more some citizens stand up in defense of other citizens, the more they are labeled with a word that in effect separates them. And there were disagreements with Havel. Bolton offers a rare portrait of the complexity of dissent in a closed society.

Bolton, Professor of Slavic Languages and Literatures at Harvard University, has also edited and translated the poems of Ivan Wernisch In the Puppet Gardens: Selected Poems, 1963-2005. A graduate of Harvard College, Bolton received his Ph.D. from the University of Michigan and was elected to the Harvard University Society of Fellows. His talk is sponsored by the Milosz Institute and the Gould Center for Humanistic Studies.