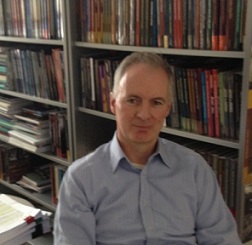 Publishing Academic Research in the Humanities
RAY RYAN
MONDAY, JANUARY 28, 2013
LUNCHEON 11:30 a.m.; LECTURE 12:00 p.m.; PARENTS DINING ROOM
Is there a crisis in academic publishing, particularly in the humanities but also the social sciences? Is the scholarly monograph in jeopardy? What kind of research is valued in scholarly publishing? These are the questions that Ray Ryan will attempt to address from his wide experience as an editor at Cambridge University Press.
Ray Ryan is the Senior Commissioning Editor for English and American Literature at Cambridge University Press. He is the author of
Ireland and Scotland: Literature and Culture, State and Nation, 1966-2000
(Oxford 2002), editor of
Writing in the Irish Republic: Literature, Culture, Politics
(2002), (Macmillan), and with Liam Mcilvanney, co-editor of
Ireland and Scotland: Culture and Society
(Fourcourts, 2005), and
The Good of the Novel
(Faber 2011), which has
received a great deal of attention
in the United States and Europe.
He also founded and edited
Bullán
: an Irish studies Journal, for ten years and received his doctorate from Oxford University.
Dr. Ryan's visit is sponsored by the Gould Center for Humanistic Studies.