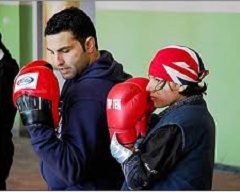 Make a Purpose of Your Ability
TAREQ AZIM
WEDNESDAY, FEBRUARY 20, 2013
LUNCH 11:30 a.m.; LECTURE 12:00 p.m.
Tareq Azim was born in Germany in 1982, the country to which his parents fled from the Soviet communist occupation of Afghanistan and the disappearance of his maternal grandfather as a prisoner of war in 1978. Azim and his family immigrated to San Francisco, CA shortly after his birth, and in 2004 he graduated with Bachelors of Arts degrees in Environmental Science and Agribusiness from Fresno State University.

In 2004, Azim co-founded the nonprofit organization, Hope of Mother, with his Mother, Mina Wali. The organization assists Afghani people through three projects including the Shawl Patcha Academy of Education, a private coed school for young men and women in the largest Opium cultivated region of Nengrahar and the first school in the area to allow female students; Shawl Wali Khan Center for Orphans, a recreation center with tutoring, mentoring, and other activities, as well as protection from potential kidnapping into terrorist organizations; and Lily's Medical clinic, the first facility of its kind in a town called Surchroad Village.

His most unique contribution to growing and strengthening the Afghan nation comes from his establishment in 2007 of the Afghani Women's Boxing Federation. Azim explains that he started the Federation because the world wants Afghanistan to stand on its own two feet. "Well how do you expect it to stand on its own two feet," he asks, "if it's a male dominated society and women have nothing to say? Women have to be the second foot." Strengthening that foot and balancing the national posture are an end result of building relationships, he says, and now that the process has begun it will most likely perpetuate itself as the program continues.

Azim has learned to apply the basics of success from one area in his life to another, fulfilling a responsibility he accepts to represent himself, his family, and their country of origin in a dignified manner. He does so through the exercise of his talents in boxing and other combat sports, as well as in social and political activism aimed at uniting, serving, and empowering the people of Afghanistan.

Tareq Azim's visit to the Marian Miner Cook Athenaeum is sponsored by the Center for Human Rights Leadership at Claremont McKenna College.