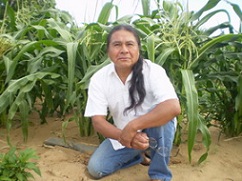 But Seriously: Clowning and Humor in Traditional Storytelling
VICTOR MASAYESVA, JR.
MONDAY, MARCH 4, 2013
Join us as Victor Masayesva (Hopi) screens his new version of the important documentary Ritual Clowns (1988). Through poetic visualization and lyrical translation of Hopi myths, rituals, and history, he explores the evolving and enduring role of the clown in Hopi society. This experimental video is eclectic in its treatment of the illusory ritual clown figures through a combination of live video, ancient oral traditions and computer-generated animation. Maintaining the perspective of the clown as a mirror of human behaviour, the film explores the acerbic and ritually cleansing roles of humour, parody, reversals, and prophecy in Southwest Native American rituals and ceremonies.
Following the 40-minute screening, that will begin at 6:30 p.m., Victor will discuss the use of humour in traditional storytelling and how oral traditions influence his work.

Victor Masayesva is a Hopi experimental filmmaker who lives in his ancestral village, where he has traditional roles and responsibilities. His visually and intellectually complex layering of video and audio effects, still photographs and hand-painting contrast aspects of Native American cultures with the crippling perceptions and influences of white culture. Raised on Hotevilla on Third Mesa in Hopi, Masayesva graduated from Princeton University, majoring in literature and studying photography with Emmet Gowin. He has been honoured with numerous awards including the University of Arizona Distinguished Alumni Award, the Gold Hugo at Chicago Festival, Two Rivers Visionary Award, Taos Festival's distinguished filmmaker award and the American Film Institute's Maya Deren Award.