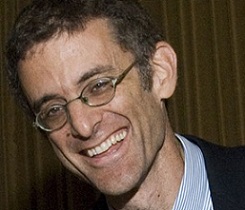 You Can't Say That: Teachers and the Limits of Freedom in American Schools
JONATHAN ZIMMERMAN
THURSDAY, MARCH 28, 2013
LUNCHEON 11:30 a.m.; LECTURE 12:00 p.m.
Jonathan Zimmerman is Professor of Education and History at New York University. After receiving his bachelor's degree from Columbia, he went on to pursue a Masters and Doctorate of History from John's Hopkins, completing his studies in 1993. His research interests include the history of education in the twentieth century, the democratic community and education, immigration history and the influence of schools on development.

Zimmerman is the Director of the History of Education Program, Steinhardt School of Culture, Education, and Human Development. He also holds an appointment in the Department of History of NYU's Graduate School of Arts and Sciences. He has served as the President of the History of Education Society.

He has received the New York University Distinguished Teaching Award, the Daniel Griffiths Faculty Research Award from the New York University School of Education, the Henry Barnard Prize and Outstanding Book Award, both awarded by the History of Education Society, and the New Scholar's Award, given by the American Educational Research Association.

Zimmerman's academic articles have appeared in the Journal of American History, the Teachers College Record, and History of Education Quarterly. Zimmerman is also a frequent op-ed contributor to The New York Times, the Washington Post. and the New Republic, among other publications. His books include Innocents Abroad: American Teachers in the American Century (2006), Whose America? Culture Wars in the Public Schools (2002), and Distilling Democracy: Alcohol Education in America's Public Schools, 1880-1925 (1999).

His most recent book, Small Wonder: The Little Red Schoolhouse in History and Memory (2009), traces the evolution of attitudes toward the little red schoolhouse from the late nineteenth century to the present day. The book chronicles the dynamic nature of the one-room schoolhouse as a symbol of lost rural virtues or America's democratic heritage and as the epitome of inefficiency and substandard academics employed as an emblem for liberal, conservative, and other agendas.