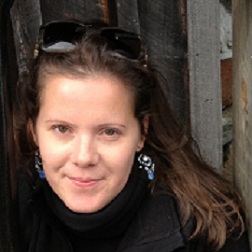 Across America in the Century's First Decade: The Odyssey of a Photojournalist
ALLISON DAVIS O'KEEFE '00
THURSDAY, MARCH 28, 2013
Allison Davis O'Keefe graduated from Claremont McKenna College in 2000 with a degree in Environment, Economics and Politics.


She spent nine years working for CBS News, covering Congress from Washington, DC and National news from New York City. Allison was a member of the CBS News team that won an Emmy for its coverage of the 9/11 terrorist attacks. She traveled extensively covering the 2004 and 2008 presidential elections.

Allison resigned as a Producer of the CBS Weekend News in 2009 to attend the International Center for Photography in New York City. Following a life-long passion, she earned a certificate in Photojournalism and Documentary Photography. Allison's photographs have appeared in Newsday, The Wall Street Journal, CBS News.com, and on the CBS Evening News.

Over the last ten years, Allison has traveled to Europe, Africa, South America and Asia, including such out-of-the-way places as Tibet, Uzbekistan, Turkmenistan, and Antarctica. Never leaving the camera behind, Allison has sought to capture a sense of place and community with her photography.

Allison documented the 2010–2011 season of the University of North Dakota "Fighting Sioux" hockey team. This led to the publication by Burn Magazine of her book One Goal (2012).