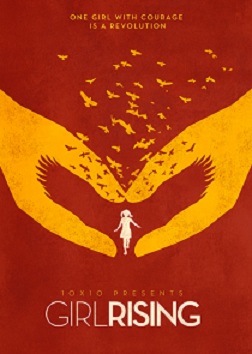 Girl Rising
ALEXANDRIA DIONNE, producer
WEDNESDAY, MARCH 13, 2013
LECTURE 6:45 p.m. PARENTS DINING ROOM
The screening of the documentary film Girl Rising (2013) will be at 3:00 p.m. in Pickford Auditorium. The Athenaeum will host a dinner to discuss the film with Alex Dionne beginning at 6:00 p.m. in Parents Dining Room.

Around the world, millions of girls face barriers to education that boys do not: early forced marriage, domestic slavery, sex trafficking, gender violence and discrimination, lack of access to health care, and school fees. Breaking these barriers will be crucial in breaking cycles of poverty and political oppression.

Girl Rising is an innovative documentary film which journeys around the globe to witness the strength of the human spirit and the power of education to change the world. From Academy-Award nominated director Richard E. Robbins, Girl Rising spotlights the stories of unforgettable girls born into unforgiving circumstances. It captures their dreams, their voices, and their remarkable lives.

Each girl's story is transformed for the screen by an acclaimed writer from her native country: Marie Arana from Peru, Edwidge Danticat from Haiti, Mona Elthaway from Egypt, Aminatta Forna from Sierra Leone, Zarghuna Kargar from Afghanistan, Maaza Mengiste from Ethiopia, Sooni Traaporevala from India, Manjushree Thapa from Nepal, and Loung Ung from Cambodia. Cate Blanchett, Priyanaka Chopra, Selena Gomez, Anne Hathaway, Selma Hayak, Alicia Keys, Chloe Moretz, Liam Neeson, Meryl Streep, and Kerry Washington all contribute voice performances to the film, which features original music from Academy Award winner Rachel Portman, in collaboration with Hans Zimmer.

By sharing their personal journeys, the girls of Girl Rising become our teachers. As one of them says, "I feel as though I have power. . .I can do anything. And I have important things to do."

Alexandria Dionne is an award-winning documentary film producer. She has worked at various magazines and newspapers, including Rolling Stone, The Village Voice, and Entertainment Weekly. She shifted to documentary film and has worked on numerous PBS and cable programs. Some of her credits include: the six-hour PBS series, The Abraham and Mary Lincoln Story: A House Divided (2001); a four-hour series with Bill Moyers, America's First River: Bill Moyers on the Hudson (2002); and Destination America (2005), a four-hour PBS documentary that took an historical look at immigration in the U.S.

She also segment-produced radio pieces for KCRW's Good Food show. Since 2010, she's been working as a producer and production manager on The Documentary Group's 10x10 Presents: Girl Rising, a feature-length documentary and global campaign about girls' education in the developing world. While in Ethiopia for Girl Rising in June of 2011, Alex directed a shoot with a woman there named Melka, who had been the victim of early marriage. Alex is proud that Melka's story is being heard and has gone on to be featured content addressing the ill-effects of early marriage for many of 10×10's NGO partners, including for World Vision, the UN Foundation, and The Elders.