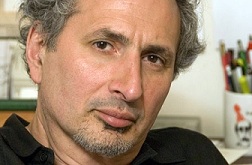 The Transmission of Trauma across Generations: Writing a Memoir about the Armenian Genocide and Growing up in Suburbia
PETER BALAKIAN
FRIDAY, APRIL 12, 2013
LUNCHEON 11:30 a.m.; LECTURE 12:00 p.m.
Adolf Hitler is purported to have said, "Who today remembers the extermination of the Armenians?" referring to the estimated 1.5 million Armenians driven from their homes by the Turkish Government between April and October 1915. The Armenians encountered government death squads and brutal conditions on their grim march to the Syrian Desert, which claimed countless lives.

Growing up in the affluent suburbs of New Jersey in the 1960s, Professor Peter Balakian, an Armenian-American, was unaware of the calamity that had befallen many of his relatives. The silence surrounding the Armenian genocide was only broken much later in his life, as elements of the tragedy slowly surfaced. Balakian's search to uncover the hidden voices of his heritage has helped define his impressive and influential career.

Professor Balakian is currently Donald M. and Constance H. Rebar Professor of the Humanities in the department of English, Director of Creative Writing, and the first Director of Colgate's Center for Ethics and World Societies.

Balakian has authored five books of poems, most recently June-tree: New and Selected Poems 1974-2000 (2004). His work has appeared widely in American magazines and journals.

His memoir Black Dog of Fate (2009), won the PEN/Albrand Prize for memoir and was recognized as a New York Times Notable Book. A national best seller, The Burning Tigris: The Armenian Genocide and America's Response (2003), was awarded the 2005 Raphael Lemkin Prize (best book in English on the subject of genocide and human rights).

He is co-founder and co-editor with the poet Bruce Smith of the poetry magazine Graham House Review. Balakian's prizes and awards include a Guggenheim Fellowship; National Endowment for the Arts Fellowship; Emily Clark Balch Prize for poetry, Virginia Quarterly Review 2007 and the Movses Khorenatsi Medal from the Republic of Armenia 2007.