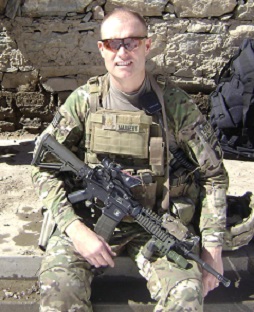 Influence of CMC on a Combat Advisor to the Afghan National Army
DANIEL MARKERT '91
TUESDAY, APRIL 16, 2013
LUNCHEON 11:30 a.m.; LECTURE 12:00 p.m.
LTC Dan Markert graduated from CMC in 1991 with a B.A. in International Relations. He was commissioned an infantry officer through the Claremont Colleges Army ROTC detachment.

LTC Markert has served in the National Guard as an infantry and scout platoon leader, rifle company executive officer, an air assault rifle company commander, various operations and logistics staff positions in infantry units, as a public affairs officer at brigade and state level, the executive officer and acting commander of an infantry brigade special troops battalion, joint staff planning officer, operations advisor to Afghan National Security Forces in Regional Command East, and currently is chief of current operations for the California National Guard.

He has led troops during domestic operations during the 1992 L.A. Riots, 1994 Northridge Earthquake, 1997 El Nino Floods, and 2007 San Diego Wildfires. LTC Markert has conducted bilateral training with the Ukrainian, Indian, Nigerian military forces. He is a graduate of the basic airborne course, infantry officer basic course, cavalry scout platoon leader's course, armor officer advance course, combined arms services staff school, Command & General Staff Intermediate Level Education course, Foreign Security Forces Advisor Course, the ISAF Counter-insurgency Course, and the NORTHCOM Joint Staff Domestic Operations Course.

LTC Markert has graduate degree in Emergency and Disaster Management from Trident University. He is also a certified TACFIT tactical fitness field instructor. In his civilian career, he was a project manager for various demolition, environmental remediation, and HAZMAT contractors.

His talk, "Influence of CMC on a Combat Advisor to the Afghan National Army", will speak to how his undergraduate career prepared him for these roles, and other lessons in leadership.