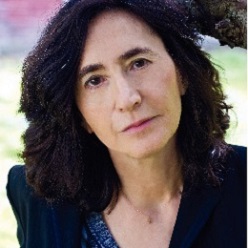 The Literary Genius of Anne Frank
FRANCINE PROSE
WEDNESDAY, APRIL 17, 2013
"What is it about Anne Frank and her novel-like diary that has given this deceptively simple work such a long and spectacular afterlife? Why and how, against all odds, did a young girl's chatty, innocent, prodigiously well-crafted book become an integral part of our culture, our history, our souls, and our civilization?"

These are the questions that Francine Prose answers in Anne Frank: The Book, The Life, The Afterlife, her powerful exploration of the life of Anne Frank and the phenomenon that is The Diary of Anne Frank.

Francine Prose is the author of numerous novels, including My New American Life (HarperCollins, 2011); Goldengrove (2008), a profoundly moving novel about a young girl plunged into adult grief and obsession after the drowning death of her sister; A Changed Man (2005), for which she won the first Dayton Literary Peace Prize in fiction; and Blue Angel (2000), which was a finalist for the 2000 National Book Award.

Prose's nonfiction books include, Reading Like A Writer (2006), a New York Times bestseller; The Lives of the Muses: Nine Women & the Artists They Inspired, a national bestseller; and; Gluttony, a meditation on a deadly sin. Her stories, reviews and essays have appeared in The Atlantic Monthly, Harper's, Best American Short Stories, The New Yorker, The New York Times, The New York Observer, Art News, The Yale Review, The New Republic, and numerous other publications.

In 2010, Prose was awarded the prestigious Washington University International Humanities Medal. She has also been the recipient of a Guggenheim Fellowship, a 1989 Fulbright fellowship to the former Yugoslavia, two NEA grants, and a PEN translation prize. She currently teaches at Bard College and lives in New York City.

Francine Prose is brought to CMC by the Gould Center for Humanistic Studies.