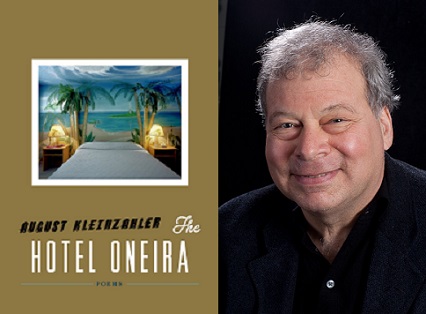 August Kleinzahler Reads from The Hotel Oneira
AUGUST KLEINZAHLER
THURSDAY, SEPTEMBER 19, 2013
DINNER 6:00 p.m.; PROGRAM 6:45 p.m.
Please join us to hear August Kleinzahler read from his new book of poetry, The Hotel Oneira. From Publisher's Weekly: "Kleinzahler's first since his new-and-selected Sleeping It Off in Rapid City (2008) finds the peripatetic, polymathic, and sometimes dyspeptic poet in terrific form . . . What stays, and what ought to impress any reader, are the range and the command that Kleinzahler has over so many flavors and kinds of American English."

For his own part, Kleinzahler doesn't like to call himself a poet. He says "most poets are shiftless, no-account fools." Yet he has been very successful avoiding this stereotype; his work has been described by The New York Times as "a modernist swirl of sex, surrealism, urban life and melancholy with a jazzy beat."

Kleinzahler was born in Jersey City, New Jersey, in 1949, and raised in Fort Lee, New Jersey. After graduating from the University of Victoria, he wrote a music column for the San Diego Reader before starting his career as an author, essayist, and poet. He is the author of ten books of poetry, including: The Strange Hours Travelers Keep (2004), winner of the International Griffin Poetry Prize; Live from the Hong Kong Nile Club: Poems: 1975-1990 (2000); Green Sees Things in Waves (1999); and Red Sauce, Whiskey and Snow (1995). He is also the author of the meditative memoir Cutty, One Rock: Low Characters and Strange Places, Gently Explained (2004).

His reputation as a divisive, opinionated figure was confirmed in 2004 when he wrote a scathing response to Garrison Keillor's poetic taste on his NPR segment in Poetry Magazine. He critiqued Keillor for his persistent selection of only "anecdotal" and "wistful" poems.

Kleinzahler's honors include a fellowship from the Guggenheim Foundation, the Lila Acheson-Reader's Digest Award for Poetry, an Academy Award in Literature from the American Academy of Arts and Letters, a Berlin Prize Fellowship, the Griffin International Poetry Prize, and the post of poet laureate in Fort Lee, New Jersey.

August Kleinzahler is a visiting lecturer in the department of literature and a Gould Fellow.