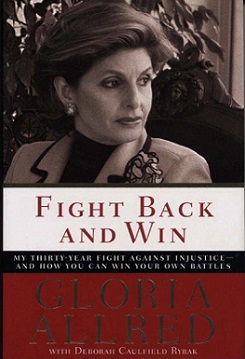 Women's Rights and Women's Wrongs – Sexual Harassment in the Workplace and Sexual Assault on College Campuses
GLORIA ALLRED
MONDAY, SEPTEMBER 23, 2013
Gloria Allred has been practicing law for over thirty-two years. Through her cases on behalf of women's rights, and rights for minorities discriminated against because of gender, race, age, sexual orientation, or physical condition, Allred has emerged as a prominent activist. Her law firm, Allred, Maroko & Goldberg is well known for their work on behalf of victims in civil rights, rape, child abuse, and murder cases.

Allred currently serves as president of the Women's Equal Rights Legal Defense and Education Fund, and Time magazine called her "one of the nation's most effective advocates of family rights and feminist causes." In 1986 President Reagan awarded her the President's Volunteer Action Award for her development of a child support amnesty program in California. Allred is the author of Fight Back and Win – My Thirty-Year Fight Against Injustice and How You Can Win Your Own Battles (2006), where she shares lessons from her extensive experience fighting for victims.

Allred has gained prominent national attention for her involvement in high profile cases. She represented the family of OJ Simpson's slain wife; Mel Brown (Scary Spice) in a paternity suite against Eddie Murphy; and women harassed by Tiger Woods, Anthony Wiener, and Herman Cain, among many others. Allred also took on the case of a Miss Universe contestant who was ousted after it was discovered she was born male, Meg Whitman's undocumented housekeeper after it was suspected she was fired for political reasons, and victims of sexual assault at Occidental College.

Ms. Allred's Athenaeum talk is jointly sponsored by the Athenaeum, ASCMC, the Kravis Leadership Institute, the Berger Institute for Work, Family, and Children, and the Center for Writing and Public Discourse.