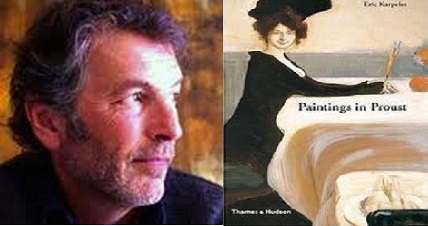 Was Proust Convinced? Art and the Power of Redemption
ERIC KARPELES
TUESDAY, OCTOBER 15, 2013
Eric Karpeles is a painter and the author of the remarkable
Paintings in Proust: A Visual Companion to In Search of Lost Time
(2008). In that book, Eric Karpeles identified and located the many paintings to which Proust makes reference; in other cases, where only a painter's name is mentioned to indicate a certain style or appearance, Karpeles chose a representative work to illustrate the impression that Proust sought to evoke.
http://www.nytimes.com/2008/11/02/arts/design/02kenn.html?pagewanted=all
.
Karpeles' own painting "The Sanctuary" was created in response to need of the HIV/AIDS community for a welcoming environment for mourning and the experience of loss. His expansive surround of painted surfaces traveled around the United States, ending with a three-month exhibit in New York's Grand Central Terminal. His "Driving to the Interior," a tribute to the art and vision of Elizabeth Bishop, is now installed at the University of North Carolina, Chapel Hill, and he created a non-denominational chapel space (commissioned by Mary and Laurance Rockefeller) for the New York headquarters of the HealthCare Chaplaincy.
Now as a Milosz Institute Fellow, Karpeles has turned his attention to a ground-breaking interpretive biography of Joseph Czapski, an eminent Polish artist, author, and critic and one of the very few Polish officers to survive the Katyn massacre. After World War II, Czapski remained in exile in the suburbs of Paris and founded "Kultura," one of the most influential intellectual journals of the 20th century.