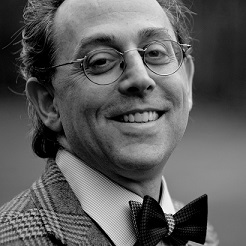 Hannah Arendt and the Fearsome-Word-and-Thought-Defying Banality of Evil
ROGER BERKOWITZ
THURSDAY, NOVEMBER 7, 2013
Roger Berkowitz is Academic Director of the Hannah Arendt Center for Politics and Humanities and Associate Professor of Politics, Human Rights, and Philosophy at Bard College. His research focuses foremost on questions of justice and jurisprudence, the history and philosophy of science, the relationship of politics and aesthetics, and on the philosophies of Heidegger, Nietzsche, Kant, Plato, Aristotle, and Arendt. In addition to numerous articles, essays, and reviews, he has authored the book
The Gift of Science: Leibniz and the Modern Legal Tradition
(2005), an account of how the rise of science has led to the divorce of law and justice. He has edited a special issue of
Law, Culture, and the Humanities
on the theme of "Revenge and Justice" (2005) and is the co-editor of
Thinking in Dark Times: Hannah Arendt on Ethics and Politics
(2009) and
The Intellectual Origins of the Global Financial Crisis
(2012).
Professor Berkowitz regularly blogs at
www.vernunft.org
, has recently reviewed the film
Hannah Arendt
in
The Paris Review
and has commented on the debates initiated in the film in an op-ed piece for
The New York Times
titled "Misreading Eichmann in Jerusalem" (July 2013).
He received his B.A. from Amherst College, his J.D. from Boalt Hall School of Law, and his Ph.D. from the University of California, Berkeley. Roger Berkowitz's talk is sponsored by the Center for Human Rights Leadership at Claremont McKenna College.