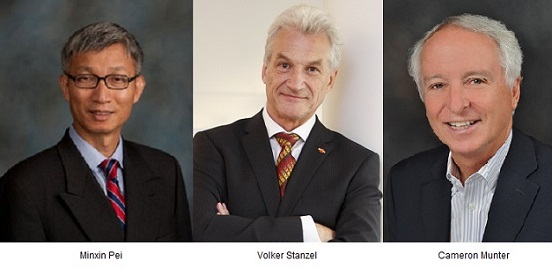 "A New Era for U.S.-European Alliance: Views from Two Ambassadors"
VOLKER STANZEL
CAMERON MUNTER
MINXIN PEI P'11
MONDAY, APRIL 14, 2014
The ongoing crisis in Ukraine has created an unprecedented opportunity in the post-Cold War era to strengthen the strategic relationship between the U.S. and Europe. In the last two decades, with the disappearance of a common threat, the trans-Atlantic relationship has experienced periods of cooperation as well as discord. Different conceptions of power and world order often drive U.S. and Europe apart while shared interests continue to promote cooperation. As a resurgent and assertive Russia attempts to restore its imperial sphere of influence and test the will of the West in defending the post-Cold War order, the U.S. and Europe are reunited by their shared security interests and political values. However, it is unclear whether their shared interest in preserving Ukraine's sovereignty and territorial integrity will extend to other areas of strategic cooperation, such as on climate change, trade liberalization, and security in other parts of the world. Ambassadors Munter and Stanzel, two seasoned and accomplished professional diplomats, will provide two unique and insightful perspectives on these questions.

Dr. Cameron Munter, Professor of Practice of International Relations at Pomona College, was U.S. Ambassador to Pakistan from October 2010 to May 2012. Ambassador Munter has also served as the Deputy Chief of Mission at the U.S. Embassy in Iraq, U.S. Ambassador in Belgrade, and Deputy Chief of Mission in Prague and in Warsaw. In addition, Dr. Munter has served in many key positions in the State Department. Ambassador Munter was born in Claremont, California. He attended Cornell University in Ithaca, New York, and the universities in Freiburg and Marburg in Germany. He received a doctoral degree in modern European history in 1983 from the Johns Hopkins University in Baltimore, Maryland. He taught European history at the University of California in Los Angeles (1982-1984) and directed European studies at the Twentieth Century Fund in New York (1984-1985) before joining the Foreign Service.

Dr. Volker Stanzel, Visiting Professor and Podlich Fellow at Claremont McKenna College, was the German Ambassador to Japan (2009-2013, and German Ambassador to China (2004-2007). He was also the Political Director of the German Foreign Service from 2007 to 2009. Mr. Stanzel studied at the University of Frankfurt am Main between 1968 and 1972, majoring in Japanese and Chinese Studies as well as Political Science. During his undergraduate degree, he studied abroad at the University of Kyoto. In 1980, he received a Ph.D. in Japanese and Chinese Studies and Political Science from the University of Cologne. He joined the Foreign Service of the Federal Republic of Germany in 1979 and retired in 2013 after serving in many key policy positions in the German government. Dr. Stanzel is a recipient of the Order of Merit of the Federal Republic of Germany, first class.