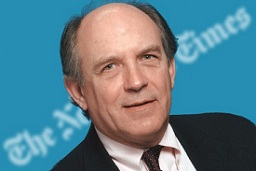 Coming Apart at the Seams: America's New Cultural Divide
CHARLES MURRAY
WEDNESDAY, APRIL 23, 2014
Do you think leaving the country for years on end or joining the Army is the best way to understand your fellow citizen? Are you worried about the widening divide between America's elite and mainstream? Dr. Charles Murray's most recent book, bestseller
Coming Apart: The State of White America, 1960-2010
(Crown Forum, 2012), describes an unprecedented cultural and socioeconomic divide in American over the last half century. When the book came out,
New York Times
columnist David Brooks commented, "I'll be shocked if there's another book this year as important as Charles Murray's '
Coming Apart
.'"
Murray first came to national attention in 1984 with the publication of
Losing Ground: American Social Policy 1950-1980
(Basic Books, 1984), which has been credited as the intellectual foundation for the Welfare Reform Act of 1996. His 1994
New York Times
bestseller,
The Bell Curve
(Free Press, 1994), coauthored with the late Richard J. Herrnstein, sparked heated controversy for its analysis of the role of intelligence quotient in shaping America's class structure. His other books include
What It Means to Be a Libertarian
(1997),
Human Accomplishment
(2003),
In Our Hands
(2006), and
Real Education
(2008). Dr. Murray is the W.H. Brady Scholar at the American Enterprise Institute and his Athenaeum lecture is sponsored by AEI Campus Executive Council.
Dr. Murray earned a B.A. in history from Harvard University and a Ph.D. in political science from the Massachusetts Institute of Technology. (
TIP: How Thick Is Your Bubble? Take Dr. Murray's 20-question quiz before attending the event.
)