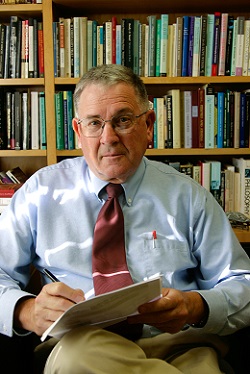 Faith and Philosophy: A Lunch and Conference in Honor of Professor Steve Davis
STEVE DAVIS
FRIDAY, APRIL 25, 2014
LUNCHEON 11:30 a.m.; PROGRAM 12:00 p.m.
Professor Steve Davis came to Claremont McKenna College in 1970. During his time at CMC, Professor Davis has been an enormously productive scholar, engaging teacher, and important voice on the faculty. He has authored or edited 16 books along with numerous scholarly articles on various aspects of the philosophy of religion, particularly on questions related to Christian theology. He has been an integral member of and a major contributor to the curricula of both the Department of Philosophy and the Department of Religious Studies. He has served on all of the college's major committees, and has been a leading presence in the college's rise to national recognition.

In recognition of his many achievements, a group of colleagues and students have produced a volume of scholar essays (Festschrift) in his honor. The volume will be published by University of Notre Dame Press later this year. The lunch is part of a day-long conference celebrating the scholarship, teaching, and service of one of the college's premier scholar-teachers.