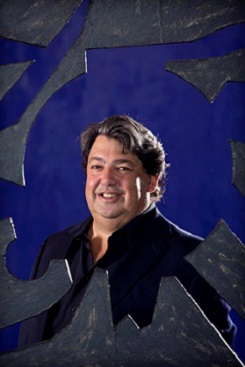 New Directions in Contemporary Art
PAUL SCHIMMEL
THURSDAY, APRIL 17, 2014
LUNCHEON 11:30 a.m.; PROGRAM 12:00 p.m.
The New York Times calls Paul Schimmel "one of the most respected authorities on postwar Los Angeles art". He is Vice President and Partner at international contemporary art gallery Hauser & Wirth's forthcoming Los Angeles venture, Hauser Wirth & Schimmel. Previously, he served as Chief Curator of The Museum of Contemporary Art, Los Angeles from 1990 to 2012, where he soon made his name for championing important L.A. artists such as Paul McCarthy, Chris Burden, Mike Kelley and Charles Ray and taking on big, sweeping themes in contemporary art. His ambitious, generation-defining surveys for MOCA include the 1998 performance-art extravaganza "Out of Actions," the 2005 altered-states show "Ecstasy" and the 2011 survey of the 1970s Californian art diaspora, "Under the Big Black Sun." Prior to MOCA, he served as Chief Curator of the Newport Harbor Art Museum in Newport Beach, CA from 1981-89, as well as Curator (1975-77) and Senior Curator (1977-78) of the Contemporary Arts Museum Houston in Houston, TX.

Schimmel has been the recipient of numerous awards, including two from the Association of Art Museum Curators, six from the International Association of Art Critics and the Award for Curatorial Excellence given by The Center for Curatorial Studies at Bard College (2001). Schimmel has organized major one-person retrospectives for artists Willem de Kooning, Takashi Murakami, Laura Owens, Sigmar Polke, and Robert Rauschenberg. Additional significant thematic exhibitions include The Interpretive Link: Abstract Surrealism into Abstract Expressionism: Works on Paper, 1938-1948 (1987); The Figurative Fifties: New York Figurative Expressionism (1988); Hand-Painted Pop: American Art in Transition 1955–62 (1992); Helter Skelter: LA Art in the 1990s (1992); Collection: MOCA's First 30 Years (2010); and Destroy the Picture: Painting the Void, 1949-1962 (2012). He most recently curated an exhibition of the diverse postwar collection of German gallerist and collector Reinhard Onnasch entitled, Re-View: Onnasch Collection, shown in Hauser & Wirth's London and New York galleries (2013-2014).

Schimmel has served as a National Endowment for the Arts panelist and was appointed by President Barack Obama to serve on the Committee for the Preservation of the White House (2010-2012). He has also served as a Co-Director and Chairman of the Mike Kelley Foundation for the Arts (2012-2013), and in 2012 received an honorary Doctor of Fine Arts degree from the San Francisco Art Institute.