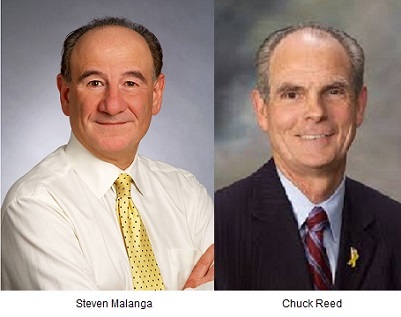 Tough Choices for California: What Public Pension Liability Means for Your Future
STEVEN MALANGA
CHUCK REED
THURSDAY, APRIL 17, 2014
State and local government pensions across the country are collectively underfunded by at least $1 trillion and the heavy burden of public pension obligations is a primary factor in the recent wave of municipal bankruptcies. In California, unfunded public pension liabilities are a cloud looming over not only the state budget, but also those of many local governments. Last year, Moody's Investor Services placed 30 California cities on review for possible ratings downgrades. As pension obligations consume an increasing portion of public budgets, a shrinking share is left for services. Join us for a discussion of the public pension crisis and what it means for the future.

Steven Malanga is City Journal's senior editor, a Manhattan Institute senior fellow, and a former RealClearMarkets.com columnist. He is author of the recently published Shakedown: The Continuing Conspiracy Against the American Taxpayer (2010), about the bankrupting of state and local governments by a new political powerhouse led by public-sector unions. He writes about the intersection of urban economies, business communities, and public policy. Prior to joining City Journal, Malanga was at Crain's New York Business, first as managing editor and then executive editor, for fourteen years. In 1995, Malanga was a finalist for a Gerald Loeb Award for Excellence in Financial Journalism for the series "Nonprofits: New York's new Tammany Hall," which he co-authored. Malanga has also written articles on various topics for The Wall Street Journal, the New York Daily News, the New York Post, and other publications.

Chuck Reed was elected as the 64th Mayor of San José in 2006, after serving six years on the City Council as an independent voice for fiscal responsibility and reform. Since taking office, Mayor Reed has been committed to improving the quality of life in the city, boosting the public's trust in local government, and eliminating the City's structural budget deficit. He is one of the leading voices in California calling for public pension reform, fighting for reforms in San Jose and spearheading an effort for a state-wide ballot initiative. Mayor Reed attended the U.S. Air Force Academy and served in Thailand during the Vietnam War. He also received a Master's Degree in Public Affairs from Princeton University and graduated from Stanford Law School. After passing the bar, he worked as an attorney in San José handling environmental, employment, land use and real estate law, as well as commercial litigation.