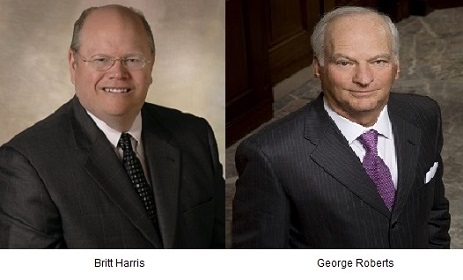 A Conversation on Investing
GEORGE ROBERTS '66 P'93
BRITT HARRIS
MONDAY, APRIL 21, 2014
LUNCHEON 11:30 a.m.; PROGRAM 12:00 p.m.
George Roberts (Menlo Park) co-founded KKR in 1976 and is Co-Chairman and Co-Chief Executive Officer. He is actively involved in managing the Firm and serves on each of the regional Private Equity Investment and Portfolio Management Committees. Mr. Roberts has served as a director or trustee of several cultural and educational institutions, including Claremont McKenna College. He is also founder and Chairman of the board of directors of REDF, a San Francisco nonprofit organization.

He earned a B.A. from Claremont McKenna College in 1966 and a J.D. from the University of California (Hastings) Law School in 1969. Mr. Roberts has more than four decades of experience financing, analyzing, and investing in public and private companies, as well as serving on the boards of a number of KKR portfolio companies.

Britt Harris has more than 30 years of investment experience leading several of the largest, most successful, and most innovative investment organizations in America. In addition, Mr. Harris is currently a member of the President's Working Group for Financial Markets and serves at the New York Stock Exchange on a sub-committee on pensions. He is one of only a few people who have worked extensively in both the public and private sectors.

Mr. Harris is the CIO for the Teacher Retirement System of Texas (TRS), the sixth largest public pension trust in America and among the 20 largest pension funds in the world. Prior to his arrival at TRS in December 2006, he was the CEO for Bridgewater Associates, a privately owned Global Investment Manager specializing in absolute return strategies and enhanced Beta programs. Prior to joining Bridgewater, Mr. Harris was also CIO and President for Verizon Investment Management Corp., a $50 Billion corporate pension system, and a Managing Director for Asia Brown Bovary. Mr. Harris got his start in his home state of Texas, working for TXU Energy. He has twice been named one of America's leading pension plan investment chiefs, once by Institutional Investor and once by Pensions and Investments. Mr. Harris also serves as an executive professor teaching a course titled, "Titans of Investing" at his alma mater Texas A&M University. He has also guest lectured on investments and public policy at Harvard, Princeton, Yale and The University of Texas at Austin.