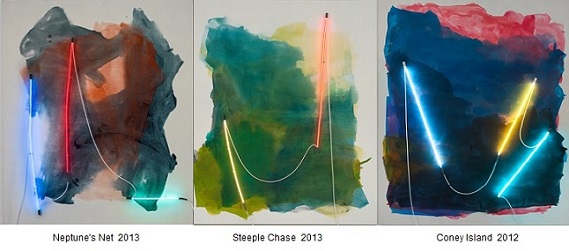 The Artist Discusses Her Work
MARY WEATHERFORD
MONDAY, APRIL 21, 2014
Acclaimed Los Angeles artist
Mary Weatherford's
lively, color-washed paintings with affixed neon lighting have changed the landscape of contemporary art.
Among the leading practitioners of a style rooted in color field and abstract expressionism, the L.A.-based artist has enjoyed much critical success with exhibits staged in the United States and abroad. Her recent series was inspired by the life and history of Bakersfield, California, and the paintings exhibited by LAX/Art. Her paintings will also be part of a major exhibition of contemporary artists that will open this coming December at the Museum of Modern Art in New York City.
A show of her paintings
opens Saturday, April 19 at the prestigious David Kordansky Gallery in Los Angeles.
http://davidkordanskygallery.com/"
.
For critics, Weatherford creates more than pictures: They regard her mixed-media works as nothing less than "a chemistry of the visual." This spring, Weatherford will offer an intimate glimpse into the processes of her unique visual chemistry during a visit to Claremont McKenna College (as a Visiting Fellow of the Gould Center for Humanistic Studies), where she is creating a large, site-specific painting.
Among her solo exhibitions garnering critical acclaim over the years are "Manhattan" at Brennan & Griffin, New York (2012), "The Cave" at John Tevis Gallery, Paris (2010), and "Brick Walls and Sealife" at Cottage Home, Los Angeles (2008). Though her paintings are linked to particular places and locales, what her canvases record are emotional responses–– "psychogeographies,"one critic calls them—that employ moody color palettes (heightened by the use of neon lighting), unusual textures and objects that have become a part of her signature style.
Born in Ojai, Calif., Weatherford graduated from Princeton University in Art History/Visual Arts, was a Helena Rubinstein Fellow at the Whitney Independent Study Program and earned her MFA from Bard College.