COVID-19 News and Announcements
Claremont McKenna College continues to take informed actions in response to the Coronavirus (COVID-19) pandemic. As the situation continues to evolve, our top priority remains the safety, health and well-being of our community. We will persevere in our mission as we take all appropriate measures in this collective public health challenge. We will update students, families, faculty and staff with regular updates, news and announcements.
---
The CMC Crisis Response Fund was established to help the College respond quickly and strategically to the evolving financial needs of our community related to the COVID-19 pandemic.
Give to the CMC crisis response fund
News and Announcements
Dear CMC Community,
June
11
We hope you are staying well. We know you are eager to learn about our plans for fall. Below is a joint statement from the Presidents' Council of The Claremont Colleges outlining the 5C undergraduate academic calendar.
Read more
Federal CARES Act emergency grants to assist students
May
19
As Claremont McKenna College continues to plan for multiple scenarios related to academic and residential life in the fall, we are diligently working to help students with the ongoing, unexpected disruption COVID-19 has caused.
Read more
CMC adopts SAT, ACT test-optional policy for Fall 2021 applicants
April
28
As high school students around the world continue to grapple with challenges from the ongoing coronavirus pandemic, Claremont McKenna College is adopting a test-optional policy for all first-year students applying for admission in Fall 2021. As a result, students will not be required to submit SAT and/or ACT scores for admission.
Read more
CMC Planning Update
April
22
President Hiram Chodosh shared the following letter with the CMC community outlining a plan that protects the health and safety of the community while adapting to the widest range of circumstances.
Read more
---
Commencement 2020 Announcement
March
27
Since our COVID-19 announcement on March 11, CMC has rallied to take the necessary steps to support each member of our community, keep us safe and healthy, and successfully complete this academic year. I want to thank all of you for your leadership, resourcefulness, and grace during this difficult time.
Read more
---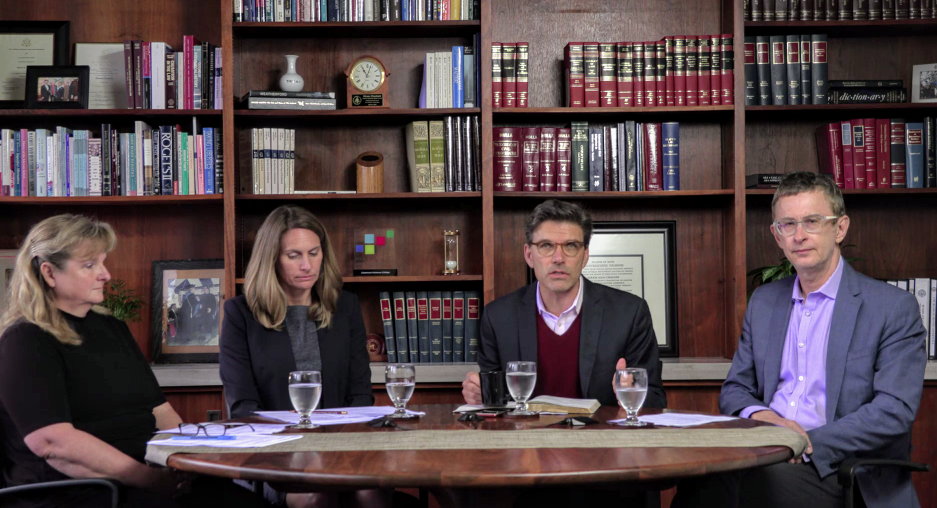 CMC President Hiram Chodosh (center) along with Andrea Gale, Assistant Vice President for Human Resources, Coreen Rodgers, Vice President of Business and Chief Operating Officer, and Dean of the Faculty, Peter Uvin, address the community.
President Hiram Chodosh addresses the community
On March 15th, CMC President addressed the community in the rapidly evolving situation regarding Coronavirus (COVID-19)
Watch the video
---
COVID-19 College AnnouncementMarch

11
Dear CMC Community: I write to update you on several decisive steps CMC has taken to limit the spread of COVID-19 (the novel coronavirus).
Read more
---