Applying for Financial Aid
Freshman and Transfer Students
The Free Application for Federal Student Aid (FAFSA) is required for students that are seeking all federal aid and most state aid. In addition to the FAFSA, CMC requires that all new students seeking need based institutional financial aid submit the College Scholarship Service (CSS)/Financial Aid PROFILE. The deadlines for these two forms are outlined below and vary depending on how you are applying for admission to CMC.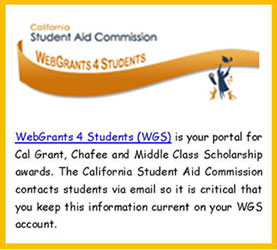 CALIFORNIA RESIDENTS
The California Student Aid Commission (CSAC) awards Cal Grants on the basis of academic achievement and financial need. CMC requires all students who are California residents seeking financial assistance to apply for a Cal Grant. To be considered for a Cal Grant, you must submit a GPA Verification Form that has been certified by a high school or college official no later than March 2 to CSAC. Forms may be obtained at your high school or college.
Students who do not apply for or do not receive need-based financial aid upon admission are not guaranteed they will receive financial aid or be considered for financial aid in future years while enrolled at Claremont McKenna College. Each year financial aid consideration will be determined based on the availability of funds.
Select one of the links below to find out more about your deadline dates.
Deadlines For Early Decision I Applicants
Fall Admission

---

CSS/Financial Aid PROFILE application deadline

Claremont McKenna College school code is: 4054
November 1

---

Free Application for Federal Student Aid (FAFSA) deadline

It is strongly recommended that you utilize the FAFSA-IRS Data Retrieval Tool.

If you utilize the DRT you should not change the data once it is transferred to the FAFSA.

Claremont McKenna College school code is: 001170
November 1

---

Financial aid verification information (signed copy of your parent and student 2015 federal tax return and W2s) are to be submitted to the College Board IDOC service

What is IDOC? Click the following link for more information: (IDOC Overview)

You will be notified if you are required to upload 2015 federal tax information and other documents through the IDOC service.

This is to be completed within two weeks of the request.

---
Deadlines For Early Decision II Applicants
Please note: The Merit Scholarship admission application deadline is December 1
Fall Admission

---

CSS/Financial Aid PROFILE application deadline

Claremont McKenna College school code is: 4054
January 1

---

Free Application for Federal Student Aid (FAFSA) deadline

It is strongly recommended that you utilize the FAFSA-IRS Data Retrieval Tool.

If you utilize the DRT you should not change the data once it is transferred to the FAFSA.

Claremont McKenna College school code is: 001170

January 1

---

Financial aid verification information (signed copy of your parent and student 2015 federal tax return and W2s) are to be submitted to the College Board IDOC service

What is IDOC? Click the following link for more information: (IDOC Overview)

You will be notified if you are required to upload 2015 federal tax information and other documents through the IDOC service.

This is to be completed within two weeks of the request.

---
Deadlines For Regular Decision Applicants
Please note: The Merit Scholarship admission application deadline is December 1
Fall Admission

---

CSS/Financial Aid PROFILE application deadline

Claremont McKenna College school code is: 4054
January 1

---

Free Application for Federal Student Aid (FAFSA) deadline

It is strongly recommended that you utilize the FAFSA-IRS Data Retrieval Tool.

If you utilize the DRT you should not change the data once it is transferred to the FAFSA.

Claremont McKenna College school code is: 001170

January 1

---

Financial aid verification information (signed copy of your parent and student 2015 federal tax return and W2s) are to be submitted to the College Board IDOC service

What is IDOC? Click the following link for more information: (IDOC Overview)

You will be notified if you are required to upload 2015 federal tax information and other documents through the IDOC service.

This is to be completed within two weeks of the request.

---
Deadlines For Transfer Applicants
Spring 2017 Admission
Fall 2017 Admission

---

CSS/Financial Aid PROFILE application deadline

Claremont McKenna College school code is: 4054
November 1
March 1

---

Free Application for Federal Student Aid (FAFSA) deadline

It is strongly recommended that you utilize the FAFSA-IRS Data Retrieval Tool.

If you utilize the DRT you should not change the data once it is transferred to the FAFSA.

Claremont McKenna College school code is: 001170

November 1
March 1

---

Financial aid verification information (signed copy of your parent and student 2015 federal tax return and W2s) are to be submitted to the College Board IDOC service

What is IDOC? Click the following link for more information: (IDOC Overview)

You will be notified if you are required to upload 2015 federal tax information and other documents through the IDOC service.

Once you are notified, this is to be completed within two weeks of the notification.

You will be notified if you are required to upload 2015 federal tax information and other documents through the IDOC service.

This is to be completed within two weeks of the request.

---