President's Society and Res Publica Society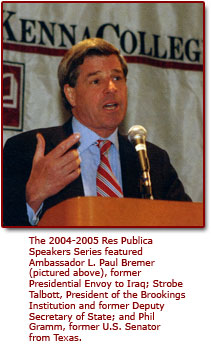 The single most important benefit of membership in the President's Society or Res Publica Society is the satisfaction you receive knowing that you contributed to the success of today's CMC students.
Each year, members are invited to attend the Res Publica speaker series, which features prominent leaders in government, academia, arts and culture, and business. These luncheon events represent the finest opportunities for students and donors to hear from and question the world's leaders in their respective fields. Members are also invited to the College's Madrigal Dinner held in early December to kick off the holiday season and are offered a handsome recognition plaque and annual renewal seals that are a tangible reminder of their commitment to our students' academic success. As a special benefit, President's Society donors will be invited to a VIP reception with one of the Res Publica speakers.
Impact of Your Gift
By tradition, undesignated alumni contributions are assigned to the Alumni Fund, a source of funds that help to meet the College's top philanthropic priority: need-based scholarships. Each year the Alumni Fund provides scholarships to 130 students. Also by tradition, undesignated parent contributions are assigned to the Parents Fund, an essential pool of unrestricted resources used to support initiatives such as faculty lectures, Athenaeum programs, athletic travel, cultural exchanges, and much more. You may also choose to direct your gift to a program on campus that has the most meaning to you. Ultimately, your gift through the President's Society and Res Publica Society is put to use as you designate it—for the programs, the services, and the scholarships that are closest to your heart.
For more information, contact:
Office of Development
400 North Claremont Boulevard
Claremont, CA 91711-4015
(800) Give-2-CMC (800-448-3226) or
(909) 621-8255
development@claremontmckenna.edu