President's Society and Res Publica Society
Educating Leaders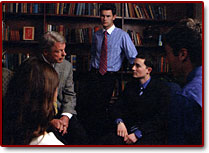 Founded on $88,000, a dream, and a vision to combine academia with public affairs, President George C.S. Benson, trustee Donald McKenna, and a handful of select professors from the country's most distinguished universities opened the College's doors in October 1946. Their mission: to educate future leaders in the liberal arts with an emphasis on the interaction between economics and government.
Many of the first students to attend CMC had served their country during World War II and had proven their leadership during their engagement in the war. CMC provided these young leaders with an education that armed them with the tools they would need to lead our country—and the world—through future challenges.
Our founders' vision and distinct mission provided these first graduates and the College with a foundation for many future successes. Today, CMC's professors and students are among the best in the country and its small liberal arts environment rigorously prepares students to hold leadership positions after graduation. Just as the College's first graduates, today's alumni are successful leaders of corporations, banks, government, non-profit organizations, the arts, and many other aspects of society. CMC's alumni accomplishments are testimony to the educational excellence offered by the College.
President's Society and Res Publica Society donors are influential leaders who understand that their support makes CMC one of the most prestigious institutions in the country. In fewer than 60 years, the College has enjoyed a meteoric rise, while continuing to educate leaders in the making. Claremont McKenna College is pleased to recognize those who have joined these distinguished giving societies in the following pages.
For more information, contact:
Office of Development
400 North Claremont Boulevard
Claremont, CA 91711-4015
(800) Give-2-CMC (800-448-3226) or
(909) 621-8225
development@claremontmckenna.edu