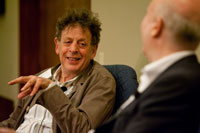 Composer Philip Glass speaks at the Athenaeum.
April 19-21, 2011
Knowledge Through Imagination Conference

Oct. 19-21, 2011
Milosz and the Future: A Centenary Festival

Spring 2010
Exhibition of Artwork by Ertai and Maya Gao

April 24-25, 2009
Burning in China: A one-man play honoring the 20th Anniversary of student protests in Tiananmen Square.
Spring 2009
"Drawn from the Heart"
Exhibition of artwork from Leonard Cohen
February 25 - March 1, 2009
Book of Longing
Convert work by Philip Glass based on the poetry and artwork of Leonard Cohen.
February 6, 2009
"Glass: A Portrait of Philip in Twelve Parts"
Documentary on the life of composer Philip Glass
March 6-7, 2008
Human Rights and China: A Symposium