The Mgrublian Center for Human Rights
Fall 2018 Events
September 24, 5:30pm: Human Rights Intern Welcome Back Dinner, Parents Dining Room (Athenaeum). Come hear exciting stories and see photo highlights from our 2018 summer interns.
October 2, 6:00pm (dinner program): Intimate Violence: Anti-Jewish Pogroms on the Eve of the Holocaust, Jeffrey S. Kopstein, professor and chair of political science at the University of California, Irvine.
October 5, 11:45am (lunch program): Rescue Board: The Untold Story of America's Efforts to Save the Jews of Europe, Rebecca Erbelding, historian, curator, and archivist at the United States Holocaust Memorial Museum, will discuss her research on the War Refugee Board (WRB), the official American response to the Holocaust.
November 5, 6:00pm (dinner program): Are Women's Rights Human Rights?, Valerie Sperling, professor of political science at Clark University, will explore the obstacles that confront those who try to use domestic and international law to fight gender discrimination in Russia and Turkey.
November 8, 11:45am (lunch program): Bringing Génocidaires to Justice: The Perspective of an NGO in the Trenches, Dixon Osburn, Executive Director, The Center for Justice and Accountability.
November 16, 12:15-1:30pm (lunch program): Know Your Rights, Amnesty International in conjunction with ACLU lawyers present a student workshop on First Amendment Rights. KRV 321. RSVP
Recognizing the Class of 2018!
The Center congratulates and commends the CMC class of 2018 as they depart our campus and embark on the next chapter of their lives. Among the many talented members of the graduating class, the Center would like to mention a few individuals who deserve special recognition: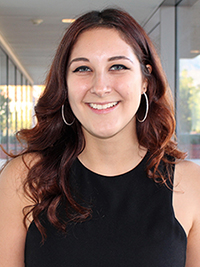 Larissa Peltola '18 - Best Thesis in Human Rights
Larissa is the definition of a human rights crusader and spent the better part of her time at CMC involved in the scholarship, activism, and promotion of human rights issues across our campus and around the globe. Larissa was instrumental in establishing an Amnesty International chapter here at CMC, helped organized and host numerous human rights awareness events and social media campaigns, conducted research independently and in conjunction with faculty mentors, and was Editor in Chief of the Center's newsletter. Larissa's thesis, Rape and Sexual Violence Used as a Weapon of War and Genocide: An Examination of Historical and Contemporary Cases of Genocidal Rape and Prosecution of Rape in International Courts, was selected as the winner for this year's Best Thesis in Human Rights award. We wish her great success as she embarks on her next adventure as a Fulbright Scholar in Hungary where she will teach English to first generation Romani college students.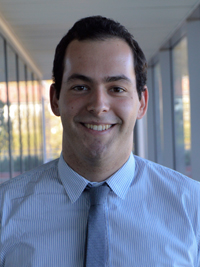 Asher Greenberg '18 - Best Overall in the Human Rights, Holocaust, and Genocide Studies Sequence
We would like to commend Asher on his outstanding academic performance and successful completion of the Human Rights, Holocaust, and Genocide Studies sequence. Asher completed the sequence in addition to a dual major in History and International Relations. His scholarship is only matched by his steadfast commitment to human rights research, in particular in the field of Holocaust studies. Asher was involved with the Center not only through the curriculum but as a regular attendee and supporter of Center events and as a human rights intern during the summer following his sophomore year. We wish him well as he begins a new career in management consulting with Parthenon-EY.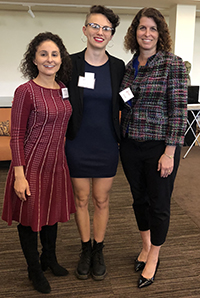 Jasmine Shirey '18 - Elbaz Family Post-Graduate Fellow in Human Rights
This year the Center announced the inaugural Elbaz Family Post-Graduate Fellowship in Human Rights. The Fellowship will provide financial support to one CMC senior for one year post-graduation to pursue an otherwise unpaid career opportunity in human rights. The Center is proud to announce Jasmine as the first recipient of this prestigious award. Jasmine will utilize the fellowship to conduct work with FAWE (Forum for African Women Educationalists) in Zimbabwe where she will direct a new weather station project as well as help implement the organization's sexual and reproductive health program. Jasmine will commence her fellowship work in September 2018 and will return to the CMC campus in Fall 2019 to share highlights of her work experience made possible by the generous support of the Elbaz Family.
Photo: (left to right) Elyssa Elbaz '94
(CMC Trustee and Advisory Board Member),
Jasmine Shirey '18, Professor Hilary Appel
Other Awards and Acknowledgements
Congratulations to Acting Director and Government Professor Hilary Appel on her recent receipt of the G. David Huntoon Senior Teaching Award. The award is given annually to a full professor selected by a Huntoon Senior Committee to recognize superior and effective teaching.
The Center also congratulates Professor Wendy Lower for the recent publishing of her keynote address, The History and Future of Holocaust Research, given April 25, 2018 at The Future of Holocaust Research Conference at the Graduate Center, City University of New York. Professor Lower will return to the Center as Director in July 2018.
Also in the news, Center Advisory Board Member Richard Hovannisian was recently recognized by the California State Legislature as they passed a resolution officially recognizing the Armenian Genocide. The resolution was passed on Tuesday, April 24th, on the 103rd commemoration of the genocide. During the Senate and Assembly floor sessions Senator Wilk and Assembly member Nazarian honored Professor Richard Hovanissian as an outstanding Armenian-American and presented him with a Joint Legislative Resolution commemorating the genocide.
Summer Interns 2018
The Center is proud to support 17 CMC students as they conduct human rights internships around the globe. Check them out on our Human Rights Internships page and follow their blogs this summer!
---
Hot Off the Press!
Check out our latest MCHR Newsletter.
Special Edition Newsletter: International Holocaust Remembrance Day 2018
Follow The Mgrublian Center for Human Rights